【PlayMining】Treasure Hunt Event in Decentraland!
2021.12.13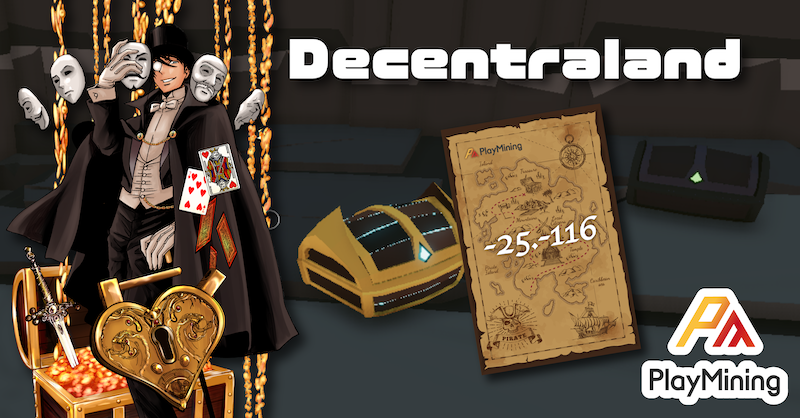 This is the second project at the PlayMining site: coordinates (-25,-116) in Decentraland (https://decentraland.org)!
Look for the keywords hidden in the treasure chest to win the luxurious gifts!
【Period】
Monday, December 13th, 12:00 (UTC+8) – Monday, December 27th, 11:59 (UTC+8)
【Participation bonus】
Depending on the keyword you enter, you will receive one of the following amulets! (Invalid if more than one keyword is entered.)
▼Amulets to be given as bonus gifts
・Phantom Thief (Fire)
・Pro Baseball Player (Fire)
・Botanist (Nature)
・Flamenco Dancer (Fire)
▼Decentra land treasure hunting event Form
https://forms.gle/o7eYUv8JuSTr53gG8
Amulets will be distributed until the end of January.
【Participation conditions】
In order to receive the gifts, you need to purchase a participation
ticket NFT.
In addition, we will confirm your possession of the NFT at 12:00 (UTC+8) on December 27th (Monday) to confirm your eligibility.
Those who have participated in the previous puzzle solving events are also eligible to join.
・NFT: 【PlayMining】Decentraland Ticket
・Sales information: Wednesday, August 4th, 12:00 (UTC+8) – @5,000 DEP/200 pieces
【Benefits of this NFT】
・The right to answer questionnaires and the right to vote for
projects to be held in the games until the end of August 2022.
・Benefits for other events.
*This NFT cannot be used in games.
Decentraland is a VR space platform created by the fusion of virtual reality and blockchain technology. PlayMining will purchase land (space) in this Decentraland and will hold various events in the purchased land (space) in the future.