JobTribes "PvPArena Ranking battle!〜Yoshitaka Amano CUP〜"
2021.08.24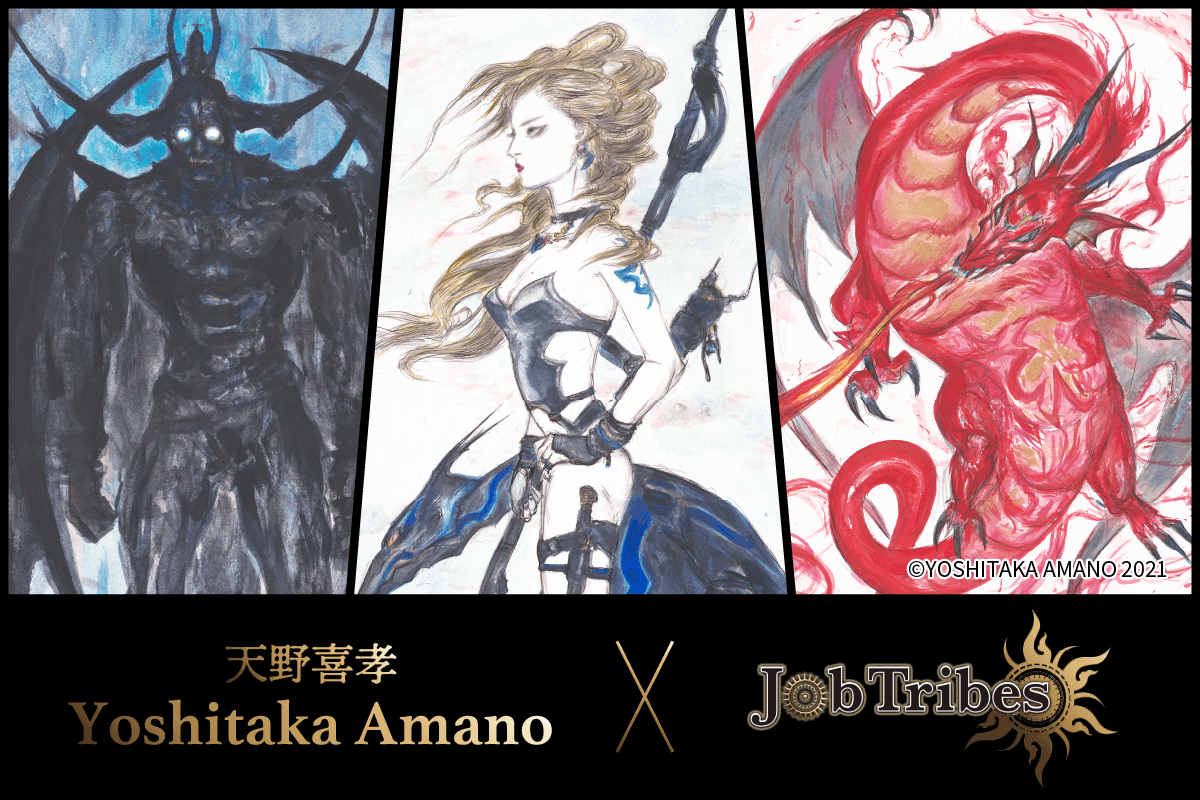 【Details】
This "Yoshitaka Amano CUP" is a PvP Arena ranking match to commemorate the collaboration between Yoshitaka Amano and the PlayMining platform!
This ranking match will be a tournament with special rules that super-strengthen the in-game amulets designed by Yoshitaka Amano.
【Special rules】
The performance of the following in-game amulets will be super enhanced!
HP and recovery effect are [2 times more], ATK is [1.2 times more], and SPD is [1.3 times more].
LEGENDARY「Blessed Lancer Diana(Nature)」
LEGENDARY「Black-winged monk soldier Armada(Poison)」
LEGENDARY「Volcano Guardian Lutiya(Earth)」
Yoshitaka Amano's newly drawn NFT is on sale at the NFT Marketplace by DEP!
【Sales period】August 18th(Wed)12:00(UTC+8)〜
https://daa.playmining.com/stores
・There are no specific attribute enhancements. (ex. there aren't cases like "water is strong")
・You cannot use your debt until the end of 3 turns.
・Support Skill cannot be used until the end of 3 turns.
※The special rules will change every month
Compete to rank well with PvP Arena points collected during this period.
【Period】August 28th(Sat)14:00(UTC+8)〜August 29th(Sun)13:59(UTC+8)
【Result announcement】Augusut 30th (Mon)14:00(UTC+8)
【Prize】
1st 500,000 DEAPcoin+5,000 PALEcoin
2nd 100,000 DEAPcoin+5,000 PALEcoin
3rd 50,000 DEAPcoin+5,000 PALEcoin
4th〜20th 10,000 DEAPcoin+5,000 PALEcoin
21th〜40th 5,000 DEAPcoin+5,000 PALEcoin
41th〜100th 2,500 DEAPcoin+5,000 PALEcoin
101th〜10,000th 40,000 PALEcoin
200th、300th、400th、500th、600th、700th、800th、900th、1,000th
Recruitment materials 500pieces× 4colors
Please give it a try!
*Even if you win this ranking match, you will not gain the right to participate in the championship and an original NFT will not be produced.
*DEAPcoin is not available for sale to residents of Japan.