JobTribes_August 3rd Lottery event is here!
2021.08.03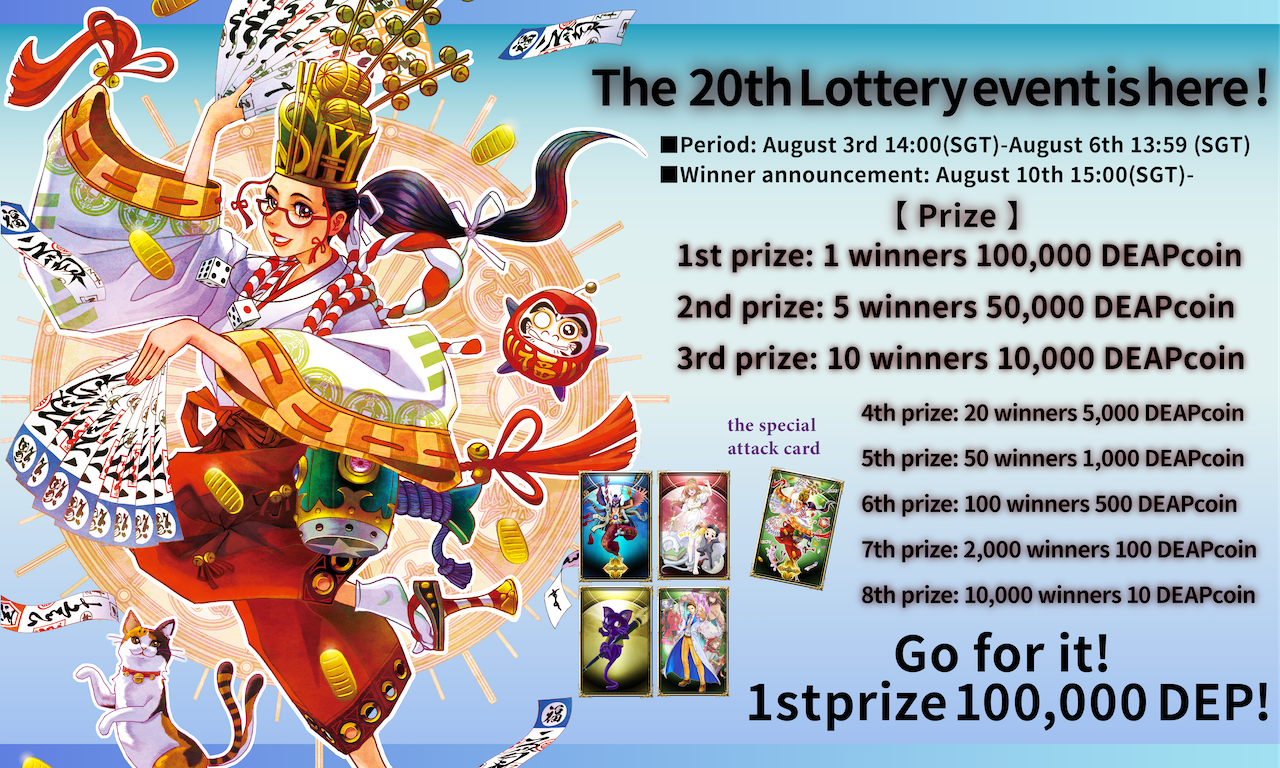 【Event Information】
If you win the battle of "existing quest" and "exclusive quest", you will receive "lottery" as a drop item.
In this lottery event, there are no "Fire" and "Earth" amulets in the opponent's deck, so putting " Nature " and " Thunder " amulets in your deck will be advantageous for battle.
Also, if you have NFTs, the number of drops will increase, and if you specifically have the "Lottery Salesperson ""【PvP Champion】shinkei <Jan 2021>""【PvP Runner-up】Rakuya ""【PvP Champion】Neoneow<March 2021>""Visionary "card in your deck, the number of drops will increase even more.
After the event, there will be a "Lottery Winner Announcement" and the winner will receive a DEAPcheck.
【Period】August 3rd 14:00(UTC+8)-Augusut 6th 13:59 (UCT+8)
【Winner announcement】August 10th 15:00(UCT+8)-
【Prize】
1st prize: 1 winners 100,000 DEAPcoin
2nd prize: 5 winners 50,000 DEAPcoin
3rd prize: 10 winners 10,000 DEAPcoin
4th prize: 20 winners 5,000 DEAPcoin
5th prize: 50 winners 1,000 DEAPcoin
6th prize: 100 winners 500 DEAPcoin
7th prize: 2,000 winners 100 DEAPcoin
8th prize: 10,000 winners 10 DEAPcoin
【How to buy "lottery"】
If you have NFT of Rare or higher, you can use PALEcoin to purchase a lottery ticket at the lottery ticket office.
*DEAPcoin is not available for sale to residents of Japan.