PlayMining"The friend/family member referral program is being held! Give your referral code to your friends and family and get rewards!"
2021.06.14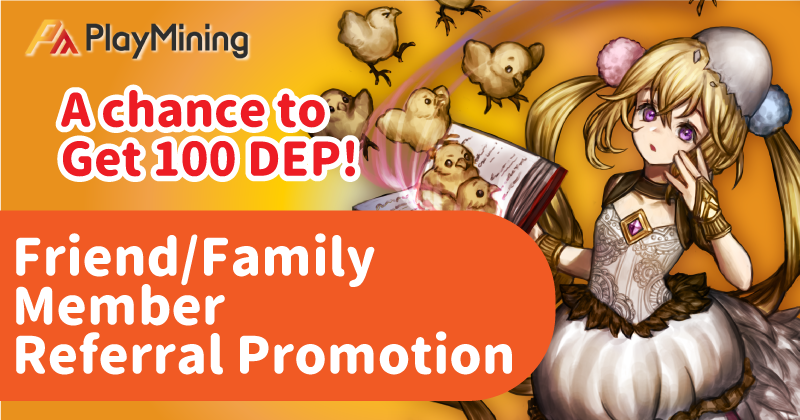 If a friend or family member registers your referral code , "100 PlayMining Point" will be given to both the referred and the person who made the referral.
Furthermore, when the person who registered the referral code creates a Wallet, both the referred and the person who made the referral will receive "100 DEP" as a gift!
Please introduce a lot of friends and family.
▼Friend/Family Member Referral Promotion▼
【Warning】
・You can only register a referral code once per account.
・The registered referral code cannot be changed or deleted.
・If your PlayMiner Rank is "Auctioneer" or higher (wallet created or verified) before the promotion starts, you cannot enter the referral code.
・Even if your PlayMiner Rank is "Auctioneer" or higher before the start of the promotion, your friends and family can enter your referral code to earn PlayMining Point and DEAPcoin. In order to get DEAPcoin, the friend or family member who entered the referral code must have SMS authentication with NFT Marketplace by DEP and have a Wallet created. DEAPcoin cannot be granted without a Wallet.
・If you receive a referral, please register the referral code before creating a Wallet. If you create a Wallet before registering the referral code, you may not be eligible for DEAPcoin.
・If you are eligible for DEAPcoin, it will be automatically sent to your Wallet.
・Please note that it may take up to 2 weeks ~ 1 month to complete the awarding of DEAPcoin depending on the traffic condition.
・PlayMining Point will be equipped with a function that can be exchanged for various items at a later date.
・This promotion may be changed, canceled, extended or terminated early without notice. Thank you for your understanding.
・If we find any fraudulent activity, such as false application or multiple registrations, we may exclude you from the promotion.
*DEAPcoin is not sold to residents of Japan.