NFT Marketplace by DEP__NFT "Puzzle Rangers" Start 2nd Sale!
2021.04.27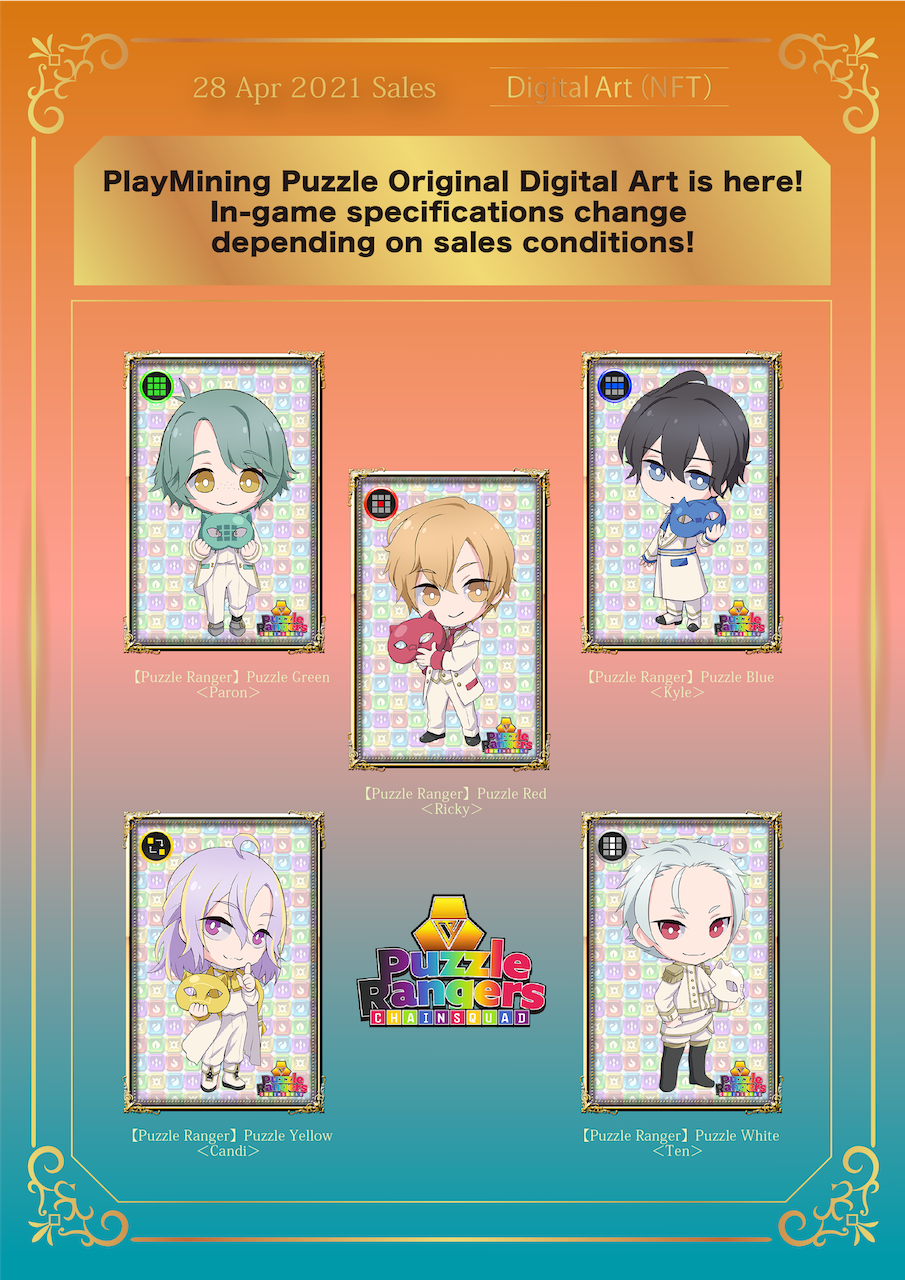 【Puzzle Rangers Overview】
The NFT Puzzle Rangers is the world's first NFT with interactive features. It is distinguished by its motif of five handsome characters aiming to become idols with opportunities for their activities as an idol group to expand depending on the sales situation.
■NFT name: Puzzle Rangers
(Puzzle Red・Puzzle Blue・Puzzle Yellow・Puzzle Green・Puzzle White)
■ 2nd sell start: April 28th (Wed) 12:00 (UTC+8) ~
■ Sale information: @1000 DEAPcoin/100 pieces each
■ Value in "PlayMining Puzzle x JobTribes"
In-game specifications change depending on sales conditions!
Ultimately, the score-up effect equivalent to that of the existing LEGENDARY class NFT will be achieved.
The score will be checked every Wednesday until 23:00 (UTC+8) and will be reflected on the following Monday at 08:00 (UTC+8).
▶︎Number of sales per piece: Score multiplier
100 pieces (sold out) : 15%
80 pieces or more : 12%
60 pieces or more : 10%
40 pieces or more : 8%
20 pieces or more : 5%
15 pieces or more : 3%
Less than 15 pieces : 0.75%
The first score increase will be reflected on May 10th (Monday) at 8:00 (UTC+8). The score increase rate up to that point is 0.75%.
※ It is planned to be implemented in the card battle "JobTribes", but the specifications are different from those used in "Puzzle x JobTribes".
■ Idol activity depending on sales situation (schedule)
1st sell out → scenario story release (NFT)SOLD OUT!
2nd sell out → an exquisite illustration implementation (NFT)
3rd sell out → voice implementation (NFT)
4th sell out → original song release (NFT)
5th sell out → original game implementation (NFT)
※The content is subject to change without notice.
*DEAPcoin is not available for sale to residents of Japan.