A beta version of the new service "Digital Art Auction" started on April 15. "Digital Art" on sale were all sold out on the first day! Introducing a six consecutive week special sales for coming six weeks!
General
2020.04.15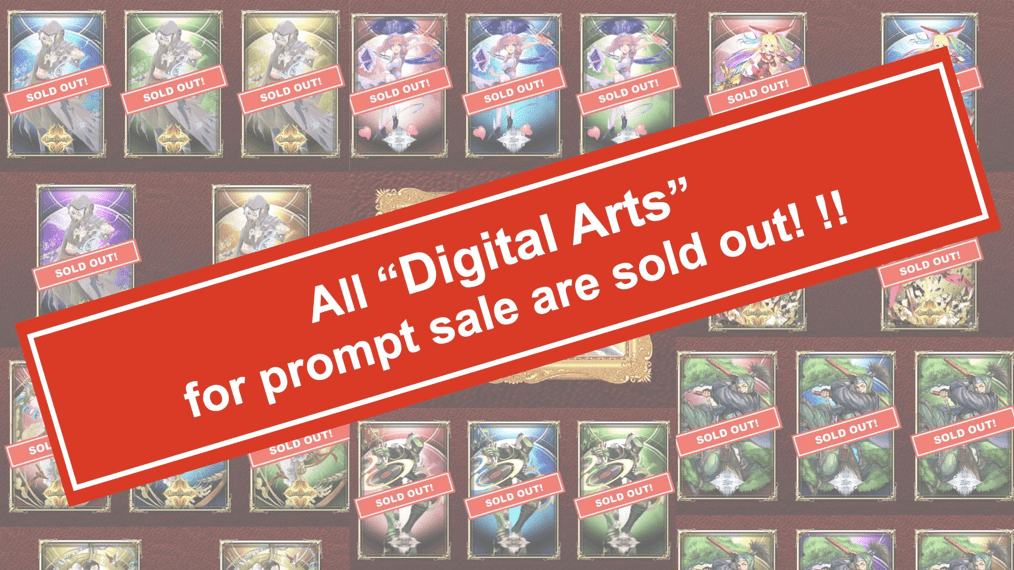 Services began for Digital Art Auction in beta! Products that were on sale the first day were sold out!
Digital Entertainment Asset Pte Ltd (DEA) announced that their new service named Digital Art Auctions beta version has launched on April 15th. This digital marketplace exclusively deals in in their OKEx listed originally developed cryptocurrency, DEAPcoin.
【Digital Art Auction beta version】
Digital Art Auction is a service that allows users to buy and sell digitized artworks ("Digital Art") drawn by popular
creators from Japan and around the world. These Digital Arts are unique and exclusive through DEA's blockchain
based transaction system. The platform offers owners of these digital assets opportunities to enhance the
entertainment effects in the games on the DEA's entertainment platform, aptly named, the PlayMining platform.
These two aspects together drives a high asset value of both the Digital Arts and DEAPcoin, as well as
exponentially expanding the DEA's "PlayMining" economic zone.
The Digital Art that went on sale the first day were all sold out quicker than expected time. Blind auction
items with a one-week bidding period will continue to be available for bidding,
so be sure to check out Digital Art Auction.
Digital Art that became sold out on the first day
– Works by the manga artist of the "Dragon Quest" series, illustrations by the author of the "Gundam" series, as
well as character designs by the "Macross" series' character designers, and more.
– A total of 322 items of all 67 types, with a total starting bid of 8,813,080 DEP will be on the DAA market.
In order to ensure more users can enjoy trading and owning Digital Art, we are conducting a six week long sale to
sell Digital Art at appropriate prices and in limited numbers.
Sale Schedules for Digital Art (an excerpt)
■4/15 Sale (Sold out for prompt sales.)
 Artist: Fujiwara Kamui/Artwork Title: The Battle of Job Lords/Limited copies: 3
/500,000(DEP)〜
 Artist: Mikimoto Haruhiko/Artwork Title: Pop Star/Limited copies: 29/100,000(DEP)〜
 Artist: Ayamine Rando/Artwork Title: Crime Scene Investigator/Limited copies: 29
/100,000(DEP)〜
■4/22 Planned Sale
Artist: Ogawa Etsushi /Artwork Title: Chinese Master Chef
■4/29 Planned Sale
 Artist: Fujiwara Kamui/Artwork Title: Jockey
■5/6 Planned Sale
 Artist: Hagiwara Kazushi/Artwork Title: Astronaut
■5/13 Planned Sale
 Artist: Ando Keishu/Artwork Title: Bodybuilder
■5/20 Planned Sale
 Artist: Minagawa Ryoji/Artwork Title: Conductor
On May 26th, a beta version of DAA-linked-game, "JobTribes" will launch, and thousands of pre-registered users
are expected to participate in the game. We expect that Digital Art which becomes popular amongst the gamers
will likely to gain it's value in the future, and thus become a profitable investment to purchase them earlier on.
Once the game is released on May 26th, the user-to-user trading function will also be released, which can cause a
hike for market activities on the platform.
Here is a list of creators who have already committed to participate on the platform (in no particular order):
● Mashima Hiro "FAIRY TAIL"
● Ogawa Etsushi "Chuuka Ichiban – Chinese Cooking Master"
● Minagawa Ryoji "Spriggan"
● Fujiwara Kamui "Dragon Quest Biography -Emblem of Roto"
● Mikimoto Haruhiko "Super Dimension Fortress Macross series"
● Hagiwara Kazushi "Bastard!! Heavy Metal, Dark Fantasy"
● Egawa Tatsuya "Magical Taluluto"
● Ayamine Rando "Get Backers"
● Terumi Nishii "JoJo's Bizarre Adventure: Part 4 — Diamond Is Unbreakable" (Anime Character Design)"
● Yamaji Hidenori "Marry Grave"
● Motomiya Hiroshi "Salaryman Kintarou"
● Igarashi Yumiko "Georgie"
● Ando Keishu "Hentai Kamen"
● Doi Takayuki "Momotaro Dentetsu "
● Shintani Kaoru "Area 88"
● Saeki Kayono "Hinoryousen"
● Hiramatsu Shinji "The Angel with Black Wings"
● Takeshi Ebihara "Miss Machiko"
● Ito Keiichiro "Mad Max: Fury Road" (Official Poster Illustration)"
● Tatsuo Kanai "HOLE IN ONE"
● Chi You "BUNNY BUNNY BANG!"
● Kaida Yuji "Mobile Suit Gundam" Series (Plastic Model Packaging Art)"
● Morita Takashi "ARSENE LUPIN L AVENTURIER"
● ume "Giga Tokyo Toy Box "
● Tony VALENTE "RADIANT"
● Reno Lemaire "Dreamland"
● Ntocha
● Olivier Vatine "Aquablue"