JobTribes"PvP Arena Ranking Battles!Limited to 24 hours"
2021.03.22
Details: Compete to rank well with PvP Arena points collected during this period.
If you take 1st place, you will be eligible to participate in the championship scheduled for August.
At  PvP Arena Ranking battles, which is held at the end of every month, the parameters change as an event!
This time, the HP and recovery effect of all Amulets will increase by a certain factor, and the battle will be on a special stage where the Nature and Earth attributes will be further enhanced.
Also, if you win the PvP Arena ranking match, you will be made a "Winner Original Digital Art (COMMON)".
However, if you are ranked first for the second time, the user's "original Digital Art (RARE)" will be produced, and only in that case, will we also produce an original Digital Art (Common) for the second place user.
This time, the reward you get for each PvP Arena match is double the previous one!
■Period:Mar 27th(Sat)14:00(UTC+8)〜Mar 28th (Sun) 13:59(UTC+8)
■Result announcement: Mar 29 (Mon)14:00(UTC+8)
※The special rules will change every month
<Prize>
1st 1,000,000 DEAPcoin
2nd 300,000 DEAPcoin
3rd 100,000 DEAPcoin
4th〜10th 50,000 DEAPcoin
11th〜20th 10,000 DEAPcoin
21th〜30th 5,000 DEAPcoin
31th〜100th 90,000 PALEcoin
101th〜10,000th 40,000 PALEcoin
200th、300th、400th、500th、600th、700th、800th、900th、1,000th
Recruitment materials 500pieces× 4colors
All participants:10,000 PALEcoin
One in-game Amulet "RARE: Train Driver (Fire)" will be given to users within the 10,000th ranking!
Please give it a try!
■PlayNow
https://game-jtcb.playmining.com/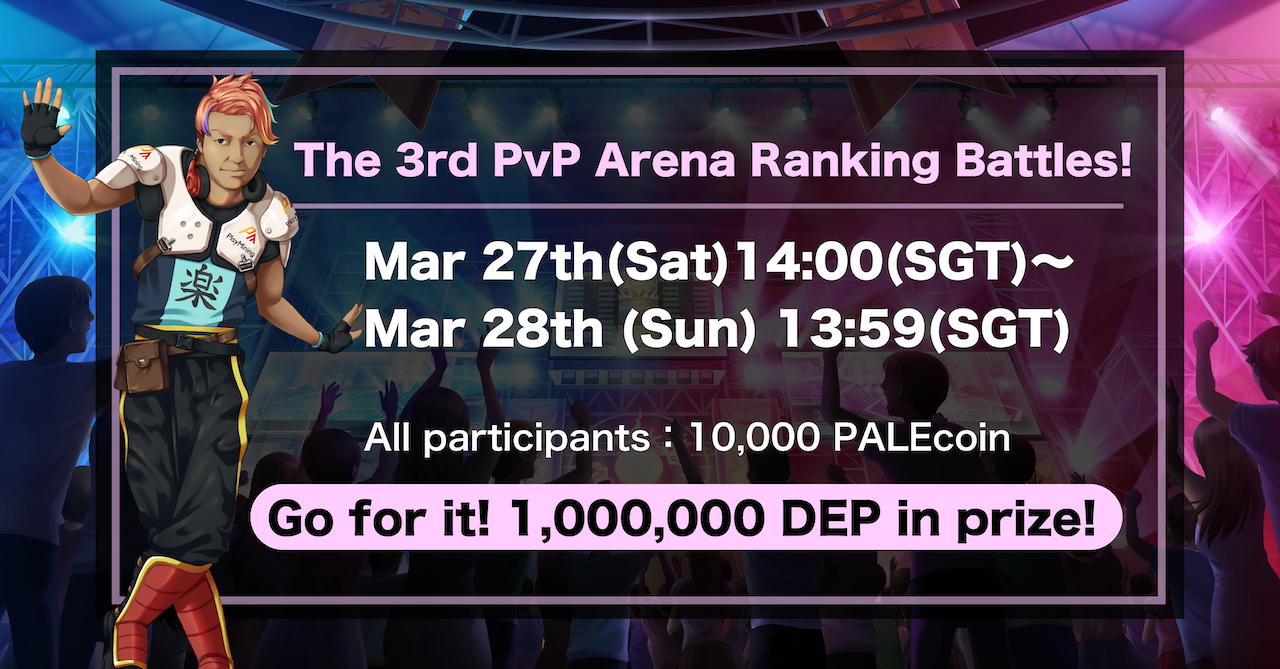 *DEAPcoin is not available for sale to residents of Japan.