Digital Art Auction【New Lineup for Digital Art Auction in Feb 10th】
2021.02.08
【New Lineup for Digital Art Auction in Feb 10th】
Profession:Ryokan Waitress(Nature)
Creator :Mottun
▼About the Artist
A Japanese illustrator.
She is active in a wide range of fields such as illustrations, manga, character design, and original drawings.
Her major works include character design for "Idol Incidents" and illustrations for "Ginshi no Maho-shiki".
▼Initial skill
Hospitality Mind:Puts up a barrier on one ally. It will not be damaged for 2 turn when attacked.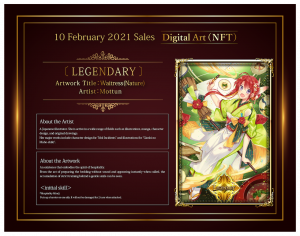 【We're selling recommended art for Material Hunting Event!】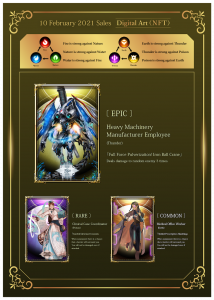 【We're selling recommended art for PvP Arena Ranking Battles!】
LEGENDARY:Swimming Instructor(Water)
LEGENDARY:Enka Singer(Water)
LEGENDARY:Fortune Teller(Water)
LEGENDARY:Hacker(Thunder)
LEGENDARY:Crime Scene Investigator(Water)
EPIC:Beautician(Water)
EPIC:Crab Fisherman(Water)
EPIC:Nursery School Teacher(Thunder)
EPIC:Apple Farmer(Nature)
EPIC:TV Station Staff(Thunder)
RARE:Sushi Chef(Water)
RARE:Aquarium Keeper(Water)
RARE:Pharmaceutical Company Salesperson(Thunder)
RARE:Pediatrician(Thunder)
RARE:WEB Programmer(Thunder)
RARE:DJ(Thunder)
COMMON:Animal Groomer(Water)
COMMON:Composer(Water)
COMMON:Hair Dresser(Thunder)
COMMON:Voice Actor(Thunder)
COMMON:Strawberry Farmer(Nature)
COMMON:Insurance agent(Thunder)
Digital Art Auction | https://daa.playmining.com