Digital Art Auction【New Lineup for Digital Art Auction in Feb 3rd】
2021.02.01
【New Lineup for Digital Art Auction in Feb 3rd】
Profession:Drug Trafficker(Poison)
Creator :Hiramatsu Shinji
▼About the Artist
A Japanese manga artist. He made his debut in "Shonen Weekly Jump" when he was a first year high school student. After working as an assistant to a famous manga artist, he released "Doberman Deka" at the age of 19. He became a popular writer when he made his weekly magazine series debut. His other works include "Black Angels" and "Murder License Kiba", and is known for his drawings of main characters who get justice by defeating villains who get away with breaking the law. In recent years, he has been actively coming out with "manga books", which combine illustrations with books.
▼About the Artwork
A piece illustrated by Hiramatsu Shinji, who is known for his manga "Doberman Deka" and "Black Angels."
"I'm a waste of society? The real waste is the guys who threw away all their money, love, and life for a moment's pleasure."
【Exhaustion Elimination Medicine】Greatly raises the ATK of one ally, but lowers the DEF.
【We're selling recommended art for Lottery event!】
LEGENDARY:Female Announcer(Thunder)
LEGENDARY:Car Designer(Thunder)
LEGENDARY:Cacao Farmer(Nature)
LEGENDARY:Nightclub Hostess(Nature)
EPIC:Apple Farmer(Nature)
EPIC:Psychiatrist(Thunder)
EPIC:Florist(Nature)
EPIC:TV Station Staff(Thunder)
RARE:Chick Inspector(Nature)
RARE:WEB Programmer(Thunder)
RARE:Tomato Farmer(Nature)
RARE:DJ(Thunder)
COMMON:Insurance agent(Thunder)
COMMON:Strawberry Farmer(Nature)
COMMON:Melon Farmer(Nature)
COMMON:Voice Actor(Thunder)
Digital Art Auction | https://daa.playmining.com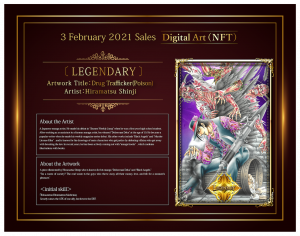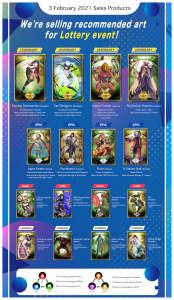 *DEAPcoin is not available for sale to residents of Japan.