"JobTribes" official service has will start!Various measures will be implemented!
2021.01.14
The official service of the card battle game "JobTribes" will start on 1/29 (Friday) 14:00 (SGT)!
Therefore, in commemoration of the start of the official service, we will implement various measures such as PvP Arena with a winning prize of 1 million DEAPcoin and a commemorative login bonus!
[Details of Measures]
■ Commemorative login bonus for the official start of the service
Details: If you log in to the game within the period, you will receive a "Blockchain Engineer (Fire) (LEGENDARY)" amulet.
Period:Jan 29th(Fri)14:00(SGT)〜Feb 12th(Fri)13:59 (SGT)
■ Winning prize is 1 million DEAPcoin! PvP Arena
Details: At  PvP Arena, which is held at the end of every month, the parameters change as an event!
This time, there is a special rule that the HP of all amulets increases by a certain amount.
Period:Jan 29th(Fri)14:00(SGT)〜Feb 1st (Mon) 7:59(SGT)
Result announcement: Feb 1st (Mon)14:00(SGT)
※The special rules will change every month
■ A new key visual will be released
A new key visual release featuring many occupation gods drawn by famous manga artists and illustrators.
■ JobTribe official start of service commemoration!
2 easy steps! Get 500 DEAPcoin (equivalent to about 2.7 USD) Campaign
Details: With a new registration of PlayMining ID and creating a wallet with Digital Art Auction we will have a campaign where you can earn 500 DEAPcoin during a certain period.
Period:Jan 14th(Thurs) 14:00 (SGT) 〜 Feb 13th(Sat) 13:59 (SGT)
※There is a possibility of early termination depending on the situation.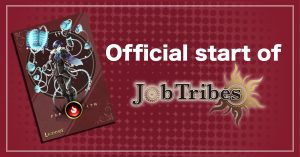 ■PlayNow
https://game-jtcb.playmining.com/
*DEAPcoin is not available for sale to residents of Japan.