The world's largest blockchain game with the most users started its official service!
2021.01.29
The world's largest blockchain game"JobTribes" with the most users started its official service!
Therefore, in commemoration of the start of the official service, we will implement various measures such as PvP Arena with a winning prize of 1 million DEAPcoin and a commemorative login bonus!
[Details of Measures]
■ Commemorative login bonus for the official start of the service
Implementation Period: January 29th (Fri) 14:00 (UTC+8) ~ January 1st 2022 (Sat) 07:59 (UTC+8)
Details: If you log in to the game within the period, you will get various items.
1st Day:Sands of Vitality×100
2nd Day:Sands of Conversation×100
3rd Day:Amulet・RARE「Day Trader(Poison)」
4th Day:Sands of Technique×100
5th Day:Sands of Knowledge×100
6th Day:Amulet・EPIC「Securities Analyst(Fire)」
7th Day:Sands of Aesthetics×100
8th Day:Sands of Creation×100
9th Day:Amulet・LEGENDARY「Blockchain Engineer (Fire)」
■ Winning prize is 1 million DEAPcoin! PvP Arena Rangking battles!
Details: At PvP Arena Ranking battles, which is held at the end of every month, the parameters change as an event!
This time, there is a special rule that the HP and recovery effect of all amulets increases by a certain amount.
Also, if you win the PvP Arena ranking match, you will be made a "Winner Original Digital Art (COMMON)".
Period:Jan 29th(Fri)14:00(UTC+8)〜Feb 1st (Mon) 7:59(UTC+8)
Result announcement: Feb 1st (Mon)12:00(UTC+8)
※The special rules will change every month
■ A new key visual will be released
A new key visual release featuring many occupation gods drawn by famous manga artists and illustrators.
■ JobTribe official start of service commemoration!
2 easy steps! Get 500 DEAPcoin (equivalent to about 2.7 USD) Campaign
Details: With a new registration of PlayMining ID and creating a wallet with Digital Art Auction we will have a campaign where you can earn 500 DEAPcoin during a certain period.
Period:Jan 14th(Thurs) 14:00 (UTC+8) 〜 Feb 13th(Sat) 13:59 (UTC+8)
※There is a possibility of early termination depending on the situation.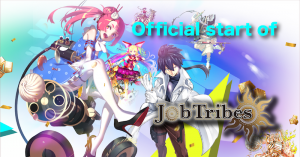 ■PlayNow
https://game-jtcb.playmining.com/
*DEAPcoin is not available for sale to residents of Japan.