Digital Art Auction【New Lineup for Digital Art Auction in Jan 13th】
2021.01.08
【New Lineup for Digital Art Auction in Jan 13th】
Profession:Female Announcer(Thunder)
Creator :Azuma Takeshi
▼About the Artist
A Japanese manga artist. He became a popular writer with "chodokyu shojo 4946"" serialized in "Shonen Sunday S". After that, "Ultimate Otaku Teacher" was serialized in "Weekly Shonen Sunday". The serialization of "Ultimate Otaku Teacher" has continued for 6 years, and the circulation of books has exceeded 1 million. This became his most well known work and has also been made into a TV animation.
▼About the Artwork
A goddess who is said to be gifted with both intelligence and beauty.
"Studying, beauty, and socializing, I'll never compromise. And I will tell the truth to the world with my own words and voice!"
▼Initial skill
【Passionate Report Attack】When summoned, there is a chance that the SPD will be increased.Lasts 3 turns.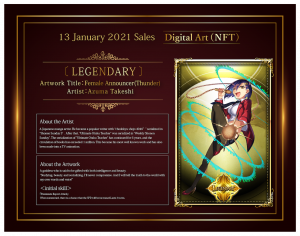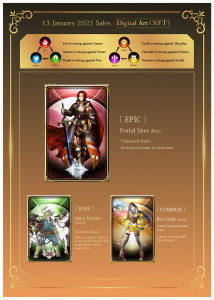 Digital Art Auction | https://daa.playmining.com
*DEAPcoin is not available for sale to residents of Japan.