Commemorating the official start of the card battle game service "JobTribes"!In 2 easy steps! The receiving 500 DEAPcoin(equivalent to about 2.7 USD) campaign has started!
2021.01.14
During the campaign period, we will carry out a campaign where anyone can earn 500 DEAPcoin by "(1) Play Mining ID new registration" & "(2) Create a wallet with Digital Art Auction".
This is your chance to get 500 DEAPcoin!
PlayMining ID registration can be done from any of the various services provided by DEA.
Please create a wallet at the "Digital Art Auction".
■Campaign Period
January 14th 14:00(UTC+8)〜February 13th 13:59(UTC+8)
■Services provided by DEA
・Digital Art Auction|https://daa.playmining.com
・Card Battle Game「JobTribes」|https://game-jtcb.playmining.com/
・Puzzle Game「JobTribes×Puzzle」|https://puzzle-jt.casualgames.playmining.com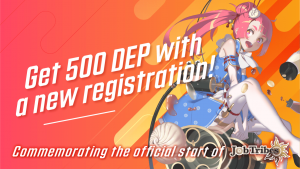 Click here for how you can register your PlayMining ID and create a Wallet.
https://pprct.net/jobtribes-how-to-start-en/
■Warning
・This promotion may be changed, canceled, extended or terminated early without notice. Thank you for your understanding.
・In order to participate in this campaign and earn DEAPcoin, you need to complete the two steps of "(1) PlayMining ID new registration" and "(2) Create Wallet with Digital Art Auction" by February 13th 13:59(UTC+8).
・Those who have already registered a PlayMining ID cannot participate in this campaign.
・The "Digital Art Auction" account has a rank according to the customer's authentication stage, and in order to obtain DEAPcoin, it is necessary to obtain an "Auctioneer" Rank account.
・Your Wallet will be created by acquiring the "Auctioneer" Rank.
・The "Auctioneer" Rank requires authentication by email and SMS, so please follow the instructions on the "Digital Art Auction" site to authenticate your account.
・DEAPcoin will be distributed in sequential order only to those who have completed the two steps above, (1) and (2), by February 13th 13:59(UTC+8).
・DEAPcoin will directly be sent to your Wallet you created.
※This rate is as of January 6th.
*DEAPcoin is not available for sale to residents of Japan.