Digital Art Auction【New Lineup for Digital Art Auction in Jan 6th】
2020.12.31
【New Lineup for Digital Art Auction in Jan 6th】
Profession:Shrine Maiden(Water)
Creator :Miyuki Ruria
▼About the Artist
A Japanese illustrator. She has worked on various illustrations for light novels such as "Nanatsu no maken ga shihai suru", "shinwa densetsu no eiyu no isekaitan", and "saikyō maho-shi no inton keikaku'.
▼About the Artwork
A piece illustrated by Japanese illustrator Miyuki Ruria.
Turning people's prayers into dances and conveying them to God, and conveying the voice of God to people as a oracle.
She sometimes settles Job Lord's and Job Tribes' fights.
▼Initial skill
【Oracle of Suppression】Lowers all enemies' ATK&DEF. Lasts 3 turns.
Digital Art Auction | https://daa.playmining.com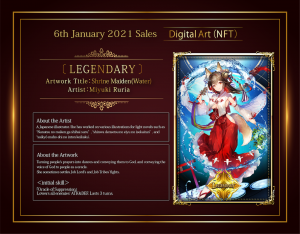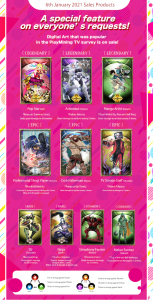 *DEAPcoin is not available for sale to residents of Japan.