Digital Art Auction【New Lineup for Digital Art Auction in Dec 16th】
2020.12.11
【New Lineup for Digital Art Auction in Dec 16th】
Profession:Car Designer(Thunder)
Creator :Asamiya Kia
▼About the Artist
A Japanese manga artist and illustrator.Debuted as a manga artist in 1986 with "Shin Seiki Vagrants". His major works include "Silent Mobius", "Steam Detectives", "My Favorite Carrera", and "SPEOPE!". He has also worked on many illustrations and has received support from countries overseas.
▼About the Artwork
A more comfortable interior, a more stylish exterior. Faster than now, stronger than now …!
▼Initial skill
【Toughness Over Fender】Raises your ATK and deals immense damage to 1 enemy.Lasts 3 turns.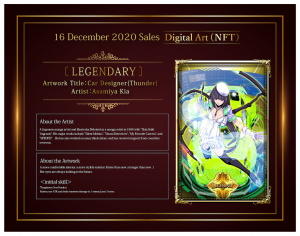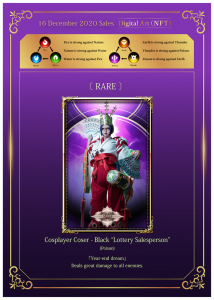 【Digital Art Pop Star Wins the "People's Choice Award"at 1st NFT Awards Event 】
At the 1st NFT Awards, the DEA-issued NFT "Pop Star" collected many votes in the general vote and was selected as one of the winners of the "People's Choice Awards"!
We will hold a thank you sale to thank all the users who voted.
【Thank you special sale】overview
■ Implementation Period: December 10th (Thurs) 12:00 (SGT) – December 17th (Thurs) 11:59 (SGT)
■ Implementation Details
During this period, customers who purchase NFT "Pop Star" Digital Art at the "Digital Art Auction" service, operated by DEA, will receive a set of 6 "Pop Star" amulets that can be used in the card battle game "Job Tribes".
This sale is a limited sale of 1 each of 6 attributes.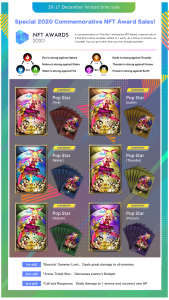 Digital Art Auction | https://daa.playmining.com