Digital Art Auction:Digital Art Pop Star Wins the "People's Choice Award"at 1st NFT Awards Event
2020.12.10
At the 1st NFT Awards, the DEA-issued NFT "Pop Star" collected many votes in the general vote and was selected as one of the winners of the "People's Choice Awards"!
We will hold a thank you sale to thank all the users who voted.
【Thank you special sale】overview
■ Implementation Period: December 10th (Thurs) 12:00 (SGT) – December 17th (Thurs) 11:59 (SGT)
■ Implementation Details
During this period, customers who purchase NFT "Pop Star" Digital Art at the "Digital Art Auction" service, operated by DEA, will receive a set of 6 "Pop Star" amulets that can be used in the card battle game "Job Tribes".
This sale is a limited sale of 1 each of 6 attributes.
■Digital Art Auction beta version| https://daa.playmining.com/
■Card Battle Game「JobTribes」beta version| https://game-jtcb.playmining.com/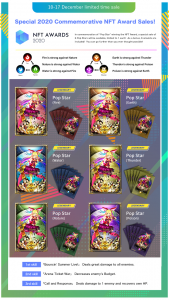 *DEAPcoin is not available for sale to residents of Japan.