JobTribes WORLD FLAGS collaboration has started!
2020.11.09
【Collaboration Information】
【Implementation Period】
November 9th, 2020 (Mon) 11:00 (SGT) – December 9th, 2020 (Wed) 07:59 (SGT)
■Card Battle Game JobTribes
Any user who accesses during the implementation period will receive a samurai character Amulet (in-game card / RARE rarity) as a login bonus, once a day.
JobTribes beta version game |https://game-jtcb.playmining.com/
■ Digital Art Auction
Digital Art (RARE Rarity) of the 5 samurai characters will be on sale from 11:00 (SGT) on November 9th (Mon).
Digital Art Auction beta version | https://daa.playmining.com/
■ PlayMining: Puzzle×JobTribes
During the implementation period, the villager silhouette included in the default deck (formation) will change into one of the five samurai character illustrations. If you remove it from the deck even once, the samurai character will disappear and it will not be displayed as an asset within your Digital Art deck.
Puzzle×JobTribes|https://puzzle-jt.casualgames.playmining.com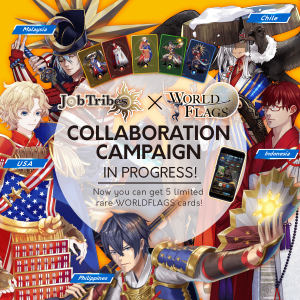 *DEAPcoin is not available for sale to residents of Japan.