Announcing the PvP 'Class Match' Event!
2023.11.08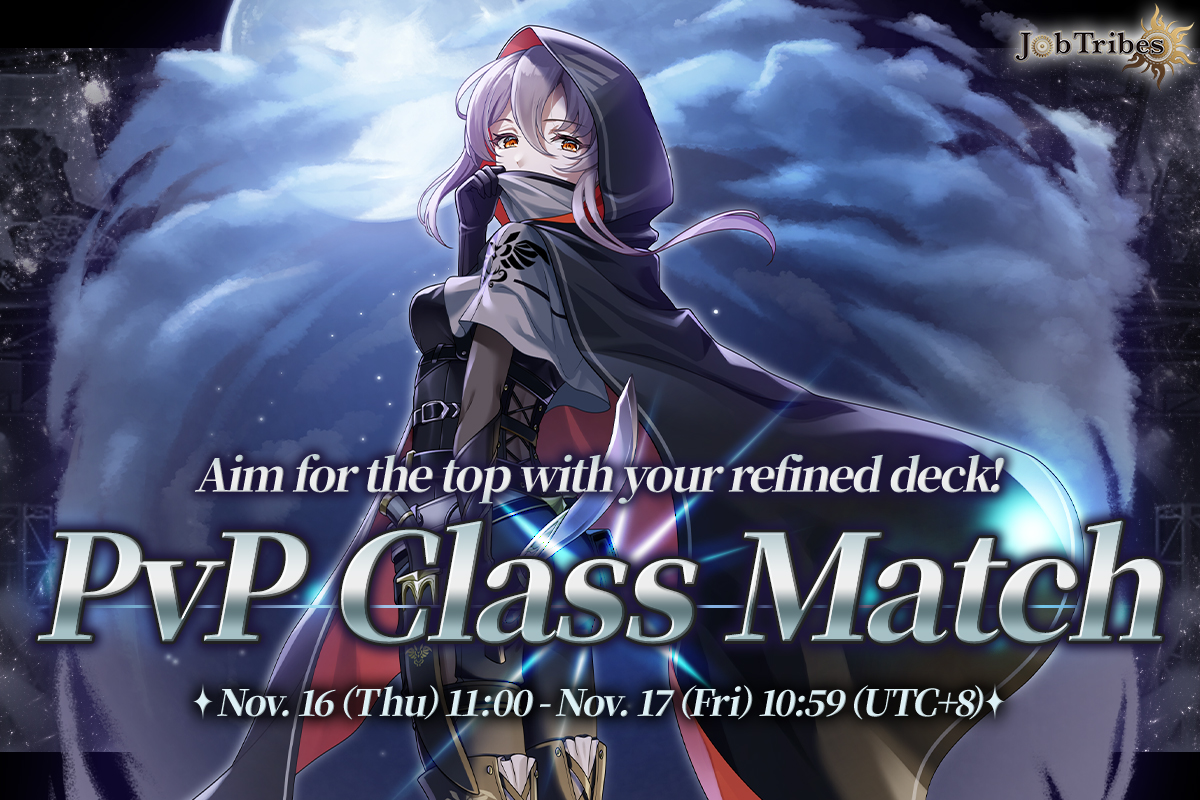 Special PvP 'Class Match' will be held!
Aim for the top with your polished deck!
【Class Match】
■Duration: Nov 16, 2023 (Thu) 11:00 – Nov 17, 2023 (Fri) 10:59 (UTC+8)
■Results Announcement: Nov 29 (Wed)
※The PvP schedule may change without notice.
※Due to maintenance, the event period might change.
【Ticket System】
A special ticket is required to participate in PvP.
One ticket is consumed per PvP match.
<Ticket Types>
・PvP Free Ticket: Can be obtained through login bonuses, etc.
・Number of Free Tickets distributed: 15 per day, 30 in total planned.
・PvP Premium Ticket Price: 150 DEAPcoin
・PvP Premium Ticket: Available for purchase in the item shop.
【Class System】
There are 6 classes: Class 0, Class 1, Class 2, Class 3, Class 4, and Class 5.
Your class changes based on PvP points, which increase or decrease with wins and losses.
Each class has a reward for reaching it. The higher the class, the more luxurious the reward.
※You can only receive the reward once per class, per season.
*There are no achievement rewards for Class 0.
【Required PvP points for class upgrade】
Class 0: 0 – 499
Class 1: 500 – 1499
Class 2: 1500 – 2999
Class 3: 3000 – 4999
Class 4: 5000 – 6999
Class 5: 7000 – 99999
【Achievement Rewards for each class】
Class 1: Elixir, Promotion Material (Gem) 999pcs x 4 colors
Class 2: Rare Limit-breakthrough Item x 3 (Fire, Water, Nature)
Class 3: Epic Limit-breakthrough Item x 3 (Fire, Water, Nature) and an Amulet Select Ticket (Epic)
Class 4: Amulet Select Ticket (Legendary)
Class 5: Amulet Select Tickets (Legendary) x 2
<Special Rules>
・The HP and recovery effects of all amulets are multiplied by 1.5.
・There is no enhancement of specific attributes.
・"Support" and "Debt" cannot be used until the end of turn 3.
・PvP points collected during the period will be used to compete for ranking.
<Prizes>
[Rewards]※There was an errorin the reward. We have already corrected and would like to apologize for the change.
1st – 100th: Limit-breakthrough Item (Legendary Water Nature x 1)
101st – 500th: Limit-breakthrough Item (Epic Water Nature x 1)
501st – 1000th: Limit-breakthrough Item (Rare Water Nature x 1)
1001st – 3000th: Training Material (Sand) 100pcs x 6 colors
Participation Prize: 50,000 PALEcoin
Round Number Prize: 200th, 300th, 400th, 500th, 600th, 700th, 800th, 900th, 1000th
→ Recruitment Material (Gem) 500pcs x 4 colors
【Amulet Select Ticket Exchange Period】
Nov 16, 2023 (Thu) 11:00 – Nov 22, 2023 (Wed) 10:59 (UTC+8)