Event Quest "Spooky Creepy Garden" Announcement!!
2023.10.18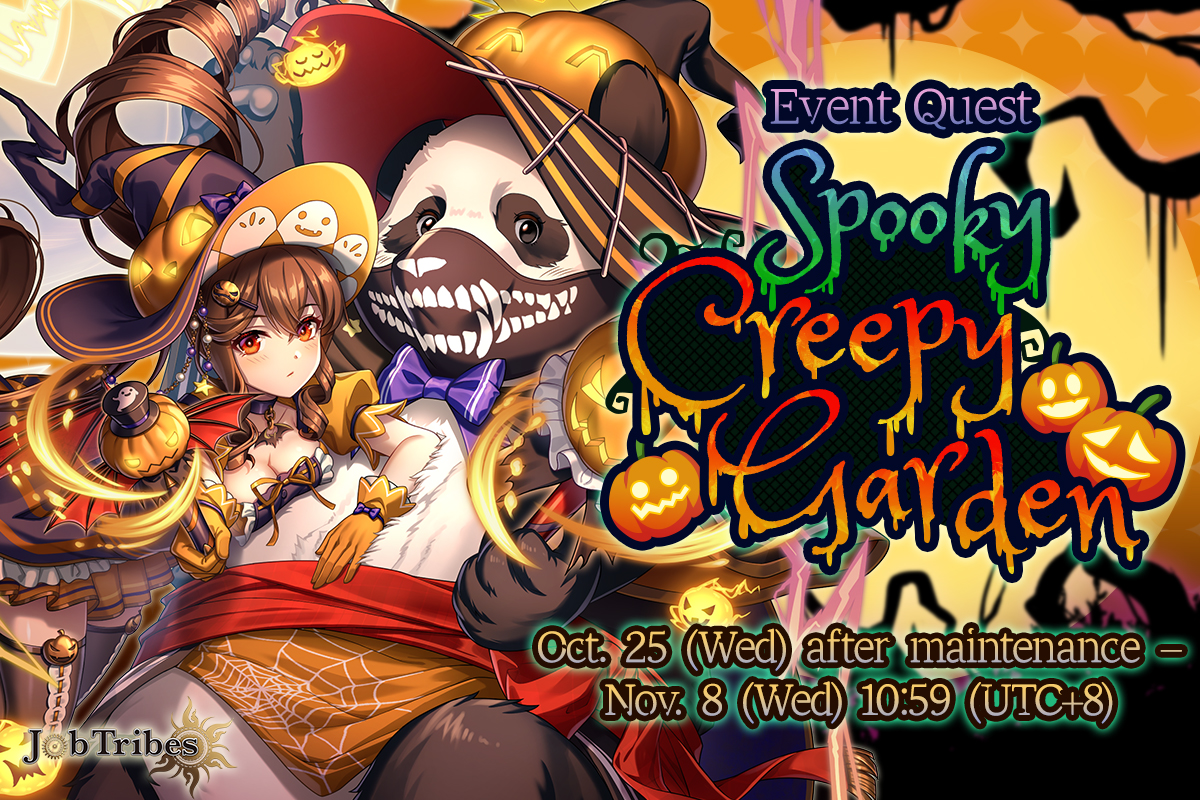 Join us for a slightly eerie garden party to celebrate this year's harvest⁉
Let's get into the Halloween spirit with JobTribes!
■About the Event Quest "Spooky Creepy Garden"
An event quest is a limited-time quest.
By completing the event quest, you can earn "Pumpkin Coins", which can be exchanged for amulets and items at a special shop.
Furthermore, certain amulets, when added to your deck and used to clear the event quest, allow you to earn even more "Pumpkin Coins" than usual.
■Event Duration
From after the maintenance on October 25, 2023 (Wed) until November 8, 2023 (Wed) 10:59 (UTC+8).
■Amulets that Boost "Pumpkin Coin" Acquisition
Jack O'Lantern Maker (Legendary)
Web Artisan (Legendary)
Blood Donor Nurse (Legendary)
Pumpkin Patch (Epic)
Cotton Candy Seller (Epic)
Chestnut Farmer (Rare)
Pumpkin Farmer (Rare)
Chocolate Sommelier (Common)
■About the Missions *Incorrect and has been corrected.
During the event period, daily mission treasure chests will include a special bonus.
The period during which you can earn this special bonus is from 8:00 on October 26, 2023 (Thu) to 7:59 on November 7, 2023 (Tue) (UTC+8) 7:59 on November 8, 2023 (Wed) (UTC+8).
■Item Exchange Lineup
Content and necessary coin count for the dedicated shop:
Exchangeable items Amount of coins required limitation
Jack O'Lantern Maker x1 : 150,000 (Purchase Limit: 9 times)
Pumpkin Patch x1 : 100,000 (Purchase Limit: 9 times)
Pumpkin Farmerx1 : 75,000 (Purchase Limit: 9 times)
-Limit Breakthrough Item (LEGENDARY) (Fire) x1: 200,000 (Purchase Limit: 1 time)
-Limit Breakthrough Item (LEGENDARY) (Poison) x1: 200,000 (Purchase Limit: 1 time)
-Limit Breakthrough Item (EPIC) (Water) x1: 100,000 (Purchase Limit: 1 time)
-Limit Breakthrough Item (RARE) (Nature) x1: 50,000 (Purchase Limit: 1 time)
-Limit Breakthrough Item (COMMON) (Earth) x1: 30,000 (Purchase Limit: 1 time)
-Elixir x1: 500 (Purchase Limit: 10 times)
-Elixir Tall x1: 1,000 (Purchase Limit: 5 times)
-Elixir Grande x1: 2,000 (Purchase Limit: 1 time)
-Saw of Dexterity x 50: 10,000 (Purchase Limit: 10 times)
-Cart of Prosperity x 50: 10,000 (Purchase Limit: 10 times)
-Hoe of Plenty x 50: 10,000 (Purchase Limit: 10 times)
-Training Material (Sand) Each color x 200 : 10,000 (Purchase Limit: 20 times)
-Recruitment Material Each x 999: 20,000 (Purchase Limit: 20 times)
-100Palecoin : 100 (No Purchase Limit)