PvP "Class Match" will be held!
2023.10.06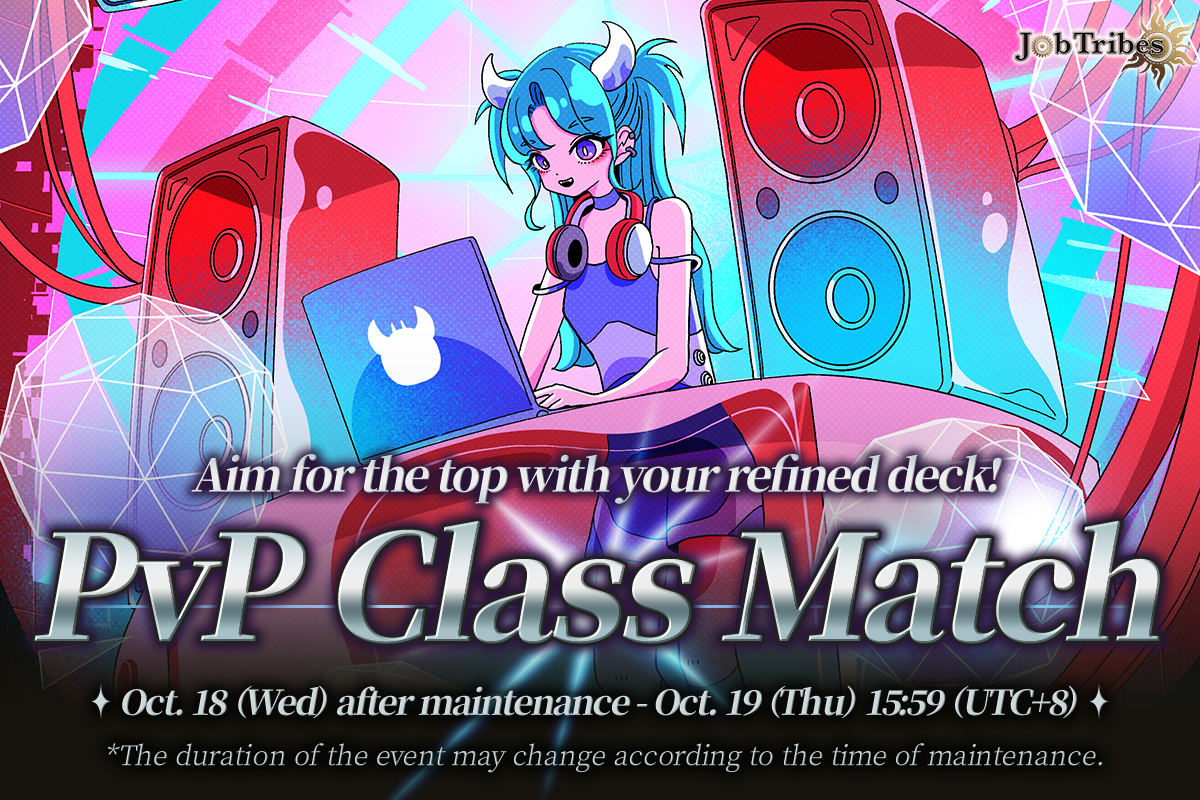 Special PvP 'Class Match' is going to take place!
Aim for the top with your refined deck!
【Class Match】*The period has been partially revised.
■Implementation period: Wednesday, October 18, 2023 after maintenance – Thursday, October 19, 2023 13:59 15:59 (UTC+8)
■Results Announcement: Wednesday, November 1
※The PvP schedule may change without prior notice.
※The duration of the event may change according to the time of maintenance.
【Ticket System】
A dedicated ticket is required to play PvP.
One dedicated ticket is consumed per PvP match.
<Ticket Types>
・PvP Free Ticket: Obtainable through login bonuses and such
・Number of free PvP tickets distributed: 15 per day, 30 in total planned
・PvP Premium Ticket price: 100 DEAPcoin
・PvP Premium Ticket: Can be purchased in the item shop
【Class System】
There are six levels: Class 0, Class 1, Class 2, Class 3, Class 4, and Class 5, and classes change according to PvP points, which increase or decrease based on the battle results.
Each class has its own achievement rewards, which can be earned by advancing to a higher class.
The higher the class, the higher the rewards will be.
*Achievement rewards can only be earned once for each class during the season.
*There are no achievement rewards for Class 0.
【Required PvP points for class upgrade】
Class0 0 – 499
Class 1 500 – 1499
Class 2 1500 – 2999
Class 3 3000 – 4999
Class 4 5000 – 6999
Class 5 7000 – 99999
【Achievement Rewards for each class】
Class 1 Elixir, Promotion Material (Gem) 999pcs x 4 colors
Class 2 Rare Limit-breakthrough Item x 3 (Fire, Water, Nature)
Class 3 Epic Limit-breakthrough Item x 3 (Fire, Water, Nature), Amulet Select Ticket (Epic)
Class 4 Amulet Select Ticket (Legendary)
Class 5 Amulet Select Ticket (Legendary) x 2
【Special Rule】
・The HP and recovery effects of all amulets are multiplied by 1.5.
・There is no enhancement of specific attributes.
・"Support" and "Debt" cannot be used until the end of turn 3.
・PvP points collected during the period will be used to compete for ranking.
【Rewards】
1st – 100th   Limit-breakthrough Item (Legendary Water x 1)
101st – 500th  Limit-breakthrough Item (Epic Water x 1)
501st – 1000th Limit-breakthrough Item (Rare Water x 1)
1001st~3000th Training Material (Sand) 100pcs x 6 colors
Participation Prize: 50,000 PALEcoin
Round Number Prize: 200th, 300th, 400th, 500th, 600th, 700th, 800th, 900th, 1000th
→ Recruitment Material (Gem) 500pcs x 4 colors
【Amulet Select Ticket Exchange Period】*The period has been partially revised.
Wednesday, October 18, 2023 after maintenance – Sunday, October 22 10:59 (UTC+8)