JobTribes × Rogue Roll Ruler's NFT Purchase Campaign!
2023.09.29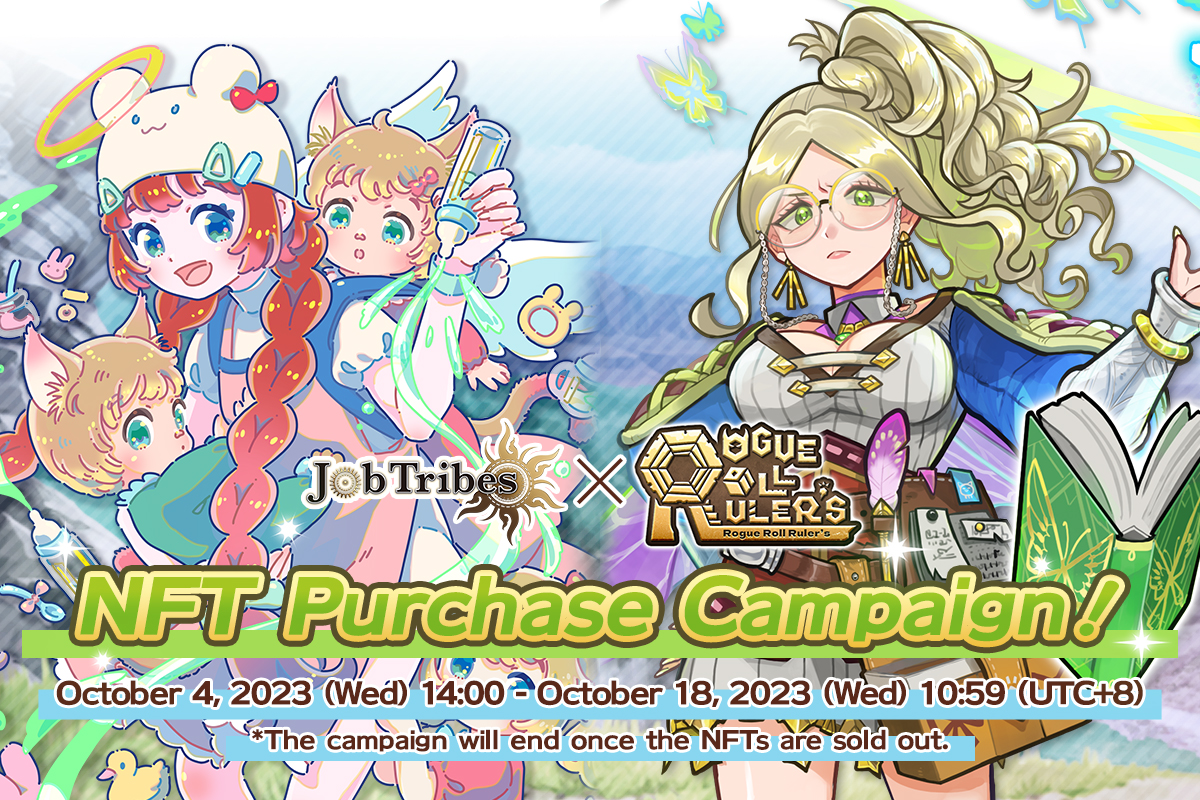 Purchase an NFT from Rogue Roll Ruler's and receive a gift item for the game JobTribes!
This is a special campaign for players of JobTribes, so take this chance to experience the world of Rogue Roll Ruler's!
○ Campaign Period:
October 4, 2023 (Wed) 14:00 – October 18, 2023 (Wed) 10:59 (UTC+8)
Note: The campaign will end once the NFTs are sold out.
○ Eligible NFTs for the Campaign:
NFTs of Rogue Roll Ruler's listed in the "Official Store" of PlayMining NFT during the campaign period.
○ Purchasing Bonus:
Based on the total amount of NFTs purchased from Rogue Roll Ruler's during the sale, we will gift you items which can be used in JobTribes.
Note: You can receive all the rewards for the steps you've reached.
Example: If you purchase 60,000DEP worth of NFTs, you can receive 15,600 Premium Recruitment Tickets and 80 PvP Premium Tickets from steps 1, 2, and 3.
Note: Purchases from "USERS" (secondary sales) are not eligible for the campaign. Please be aware.
Purchase Amount & Distributed Items:
Step 1: 6,000 DEP – 1,200 Premium Recruitment Tickets, 10 PvP Premium Tickets
Step 2: 12,000 DEP – 2,400 Premium Recruitment Tickets, 20 PvP Premium Tickets
Step 3: 60,000 DEP – 12,000 Premium Recruitment Tickets, 50 PvP Premium Tickets
Step 4: 100,000 DEP – 20,000 Premium Recruitment Tickets, 100 PvP Premium Tickets
Step 5: 300,000 DEP – 60,000 Premium Recruitment Tickets, 200 PvP Premium Tickets
○ Item Distribution Schedule:
Early November 2023
For the latest information on "Rogue Roll Ruler's", please check the following:
・Official Site: https://rogue-roll-rulers.com/en/
・Rogue Roll Ruler's Official Twitter: twitter.com/R3_GAME_EN