Event Quest "Full Force! Awakening! Bravers!!" will be held!!
2023.09.20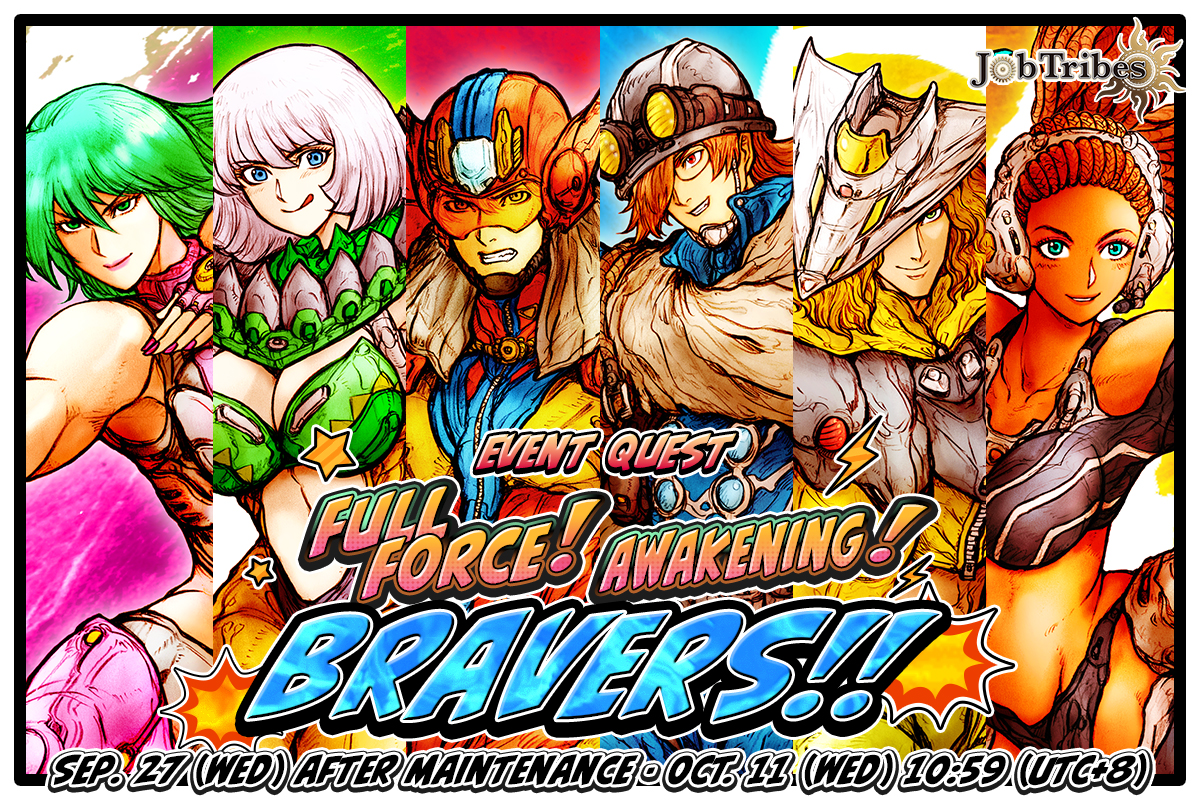 ■About the Event Quest
Event Quests are limited-time quests.
By clearing the Event Quest, you can acquire HERO Coins.
Furthermore, you can use HERO Coins to exchange for amulets and items at the dedicated shop.
■Event Period
From September 27, 2023 (Wednesday) after maintenance until October 11, 2023 (Wednesday) 10:59 (UTC+8).
■Special Effects:
Target Amulet:
Rescuer (Legendary)
Explorer (Legendary)
Food Fighter (Legendary)
Boat Racer (Legendary)
Car Racer (Legendary)
Hip-Hop Dancer (Legendary)
■About Missions
During the event period, special bonuses will be added to daily mission treasure box.
The period to obtain special bonuses is from September 28, 2023 (Thursday) 8:00 to October 11, 2023 (Wednesday) 7:59 (UTC+8).
■Rewards:
Items available for exchange at the dedicated shop and the required number of HERO coins:
Rescuer x1 … 300,000 (Purchase Limit 6 times)
Explorer x1 … 300,000 (Purchase Limit to 6 times)
Food Fighter x1 … 300,000 (Purchase Limit 6 times)
Boat Racer x1 … 300,000 (Purchase Limit 7 times)
Car Racer x1 … 300,000 (Purchase Limitd 7 times)
Hip-Hop Dancer x1 … 300,000 (Purchase Limit 7 times)
Elixir x1 … 500 (Purchase Limit 10 times)
Elixir Tall x1 … 1,000 (Purchase Limit 5 times)
Elixir Grande x1 … 2,000 (Purchase Limit once)
Necktie of Great Success x50 … 10,000 (Purchase Limit 10 times)
Disco Ball of Frenzy x50 … 10,000 (Purchase Limit 10 times)
Cloak of Inquiry x50 … 10,000 (Purchase Limit 10 times)
Training Material (Sand) each x200 … 10,000 (Purchase Limit 20 times)
Recruitment Material (Gem) each x999 … 20,000 (Purchase Limit 20 times)
100 Palecoin … 100 (No purchase limit)