Special PvP CUP [EXTRA ANOTHER BATTLE ARENA] to be held!
2023.08.18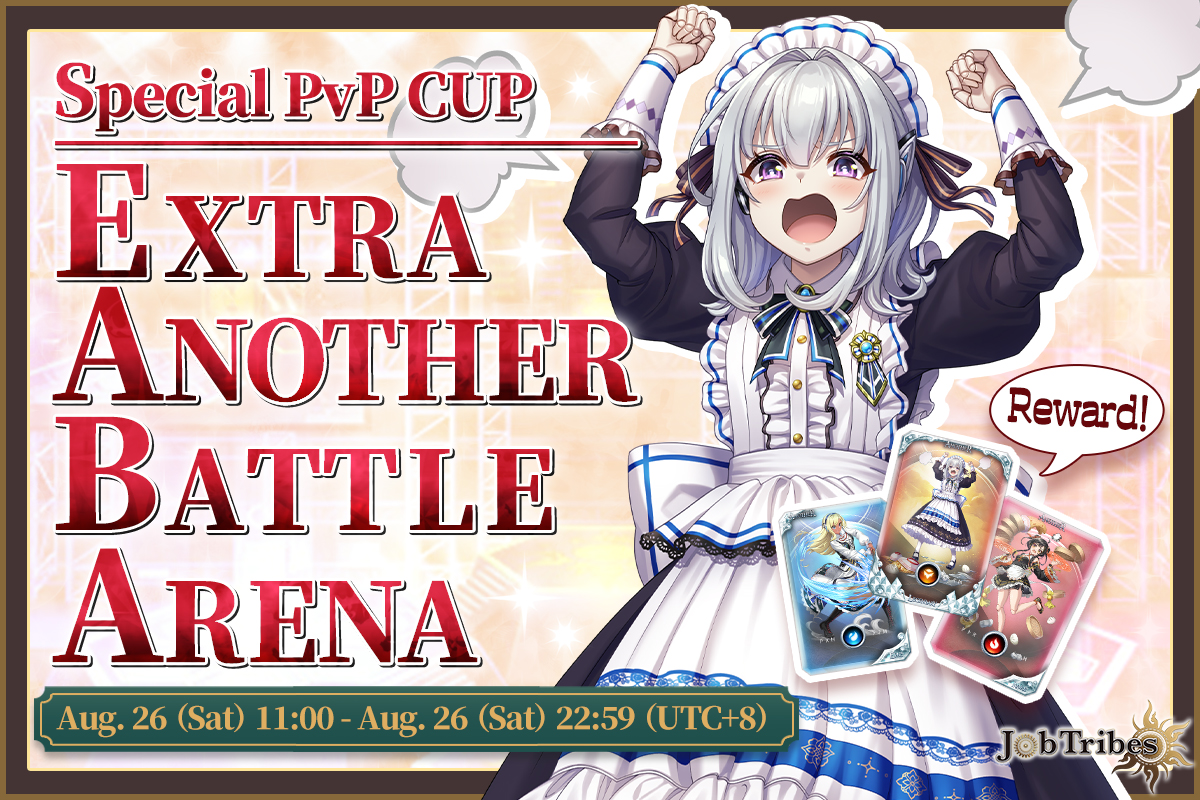 As part of our efforts to enhance the value of ANOTHER NFT, we will hold 【EXTRA ANOTHER BATTLE ARENA】.
In addition, only users who own ANOTHER NFT will receive free PvP tickets for this PvP.
【EXTRA ANOTHER BATTLE ARENA】
■Event Period:Saturday, August 26, 2023 11:00 – Saturday, August 26, 2023 22:59 (UTC+8)
■Result Announcement:Wednesday, September 6
*The PvP schedule is subject to change without notice.
【Ticket System】
Exclusive tickets are required to play the PvP.
One dedicated ticket will be consumed per PvP match.
<Ticket types>*Has been partially revised.
・Free PvP ticket: Can be obtained through login bonuses, etc.
It will be distributed into your present box.
You can check the number of tickets remaining at the top of the PvP Arena.
・Number of free PvP tickets distributed
200 tickets per day, 200 tickets in total will be distributed.
*In this PvP, free PvP tickets will be distributed only to the following users.
■Eligible users for PvP free ticket distribution
Users who meet the following conditions as of August 23 (Wed) 11:00 (UTC+8)
・Those who own at least one ANOTHER NFT (including those who purchased the ticket through "USERS")
・Those who have borrowed ANOTHER NFT from the owner using a scholarship (Free PvP tickets will be distributed to the scholar, but the rewards will be distributed to the owner).
【Eligible ANOTHER NFT】
[Legendary]
◆Music Producer(Poison)
◆Game Graphic Designer(Thunder)
◆Real Estate Broker(Earth)
◆Braille Interpreter(Fire)
◆Librarian(Water)
◆Singer-Songwriter(Nature)
[Epic]
◆Sound Technician(Poison)
◆Lighting Technician(Thunder)
◆Property Manager(Earth)
◆Sign Language Interpreter(Fire)
◆Bookbinder(Water)
◆Narrator(Nature)
[Rare]
◆Lyric Writer(Poison)
◆Spatial Designer(Thunder)
◆Construction Consultant (Earth)
◆Nursing Care Worker(Fire)
◆Customs Broker(Water)
◆Inheritance Diagnostician(Nature)
・PvP Premium Ticket Price
100 DEAPcoin
・PvP Premium Ticket: Can be purchased at the item shop
【Class System】
There are six levels: Class 0, Class 1, Class 2, Class 3, Class 4, and Class 5, and classes change according to PvP points, which increase or decrease based on the battle results. Each class has its own achievement rewards, which can be earned by advancing to a higher class.
The higher the class, the higher the rewards will be.
*Achievement rewards can only be earned once for each class during the season.
*There are no achievement rewards for Class 0.
【Required PvP points for class upgrade】
Class0 0 – 499
Class 1 500 – 1499
Class 2 1500 – 2999
Class 3 3000 – 4999
Class 4 5000 – 6999
Class 5 7000 – 99999
【Achievement Rewards for each class】
Class 1 Recruitment Material (Gem) 100pcs x 4 colors, Elixir
Class 2 Recruitment Material (Gem) 200pcs x 4 colors
Class 3 Recruitment Material (Gem) 300pcs x 4 colors
Class 4 Recruitment Material (Gem) 200pcs x 6 colors
Class 5 Recruitment Material (Gem) 300pcs x 6 colors
【Special Rule】
・The HP and recovery effects of all amulets are multiplied by 1.5.
・There is no enhancement of specific attributes.
・"Support" and "Debt" cannot be used until the end of turn 3.
・PvP points collected during the period will be used to compete for ranking.
【Rewards】
1st -10th
50,000 DEAPcoin
ANOTHER NFT 【Jobtroid】Maid-in-Chief (Legendary) ×1,【Jobtroid】Cleaning Maid (Epic) ×1,【Jobtroid】Cooking Maid (Rare) ×1
Training Material (Sand) 500pcs x 6 colors
11th – 30th
25,000 DEAPcoin
ANOTHER NFT 【Jobtroid】Cleaning Maid (Epic) ×1,【Jobtroid】Cooking Maid (Rare) ×1
Training Material (Sand) 300pcs x 6 colors
31th – 40th
15,000 DEAPcoin
ANOTHER NFT 【Jobtroid】Cleaning Maid (Epic) ×1,【Jobtroid】Cooking Maid (Rare)×1
Training Material (Sand) 200pcs x 6 colors
41st – 50th
10,000 DEAPcoin
ANOTHER NFT 【Jobtroid】Cooking Maid (Rare) ×1
Training Material (Sand) 200pcs x 6 colors
51st – 100th
2,500 DEAPcoin
101st – 500th
500 DEAPcoin
5001st – 10,000th
50,000 PALEcoin
Round Number Prize: 200th, 300th, 400th, 500th, 600th, 700th, 800th, 900th, 1000th
→ Recruitment Material (Gem) 500pcs x 4 colors
【ANOTHER NFTs to be implemented】
【Jobtroid】Maid-in-Chief(Legendary)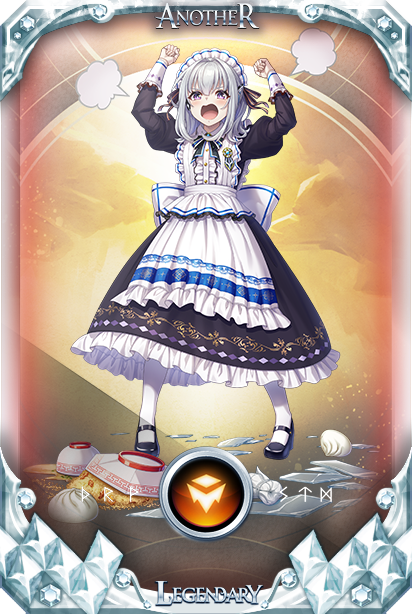 【Jobtroid】Cleaning Maid(Epic)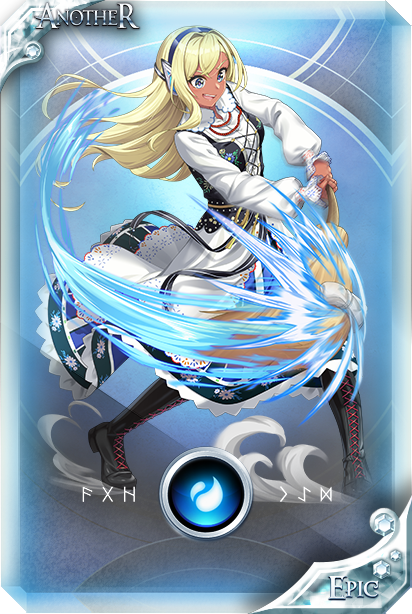 【Jobtroid】Cooking Maid(Rare)