NFT featuring player Marselino Ferdinan available for sale on "PlayMining NFT"
2023.03.22
NFT grants NFT grants the right to apply for uniform gifts and provide access to participate in the new Fan Token Community.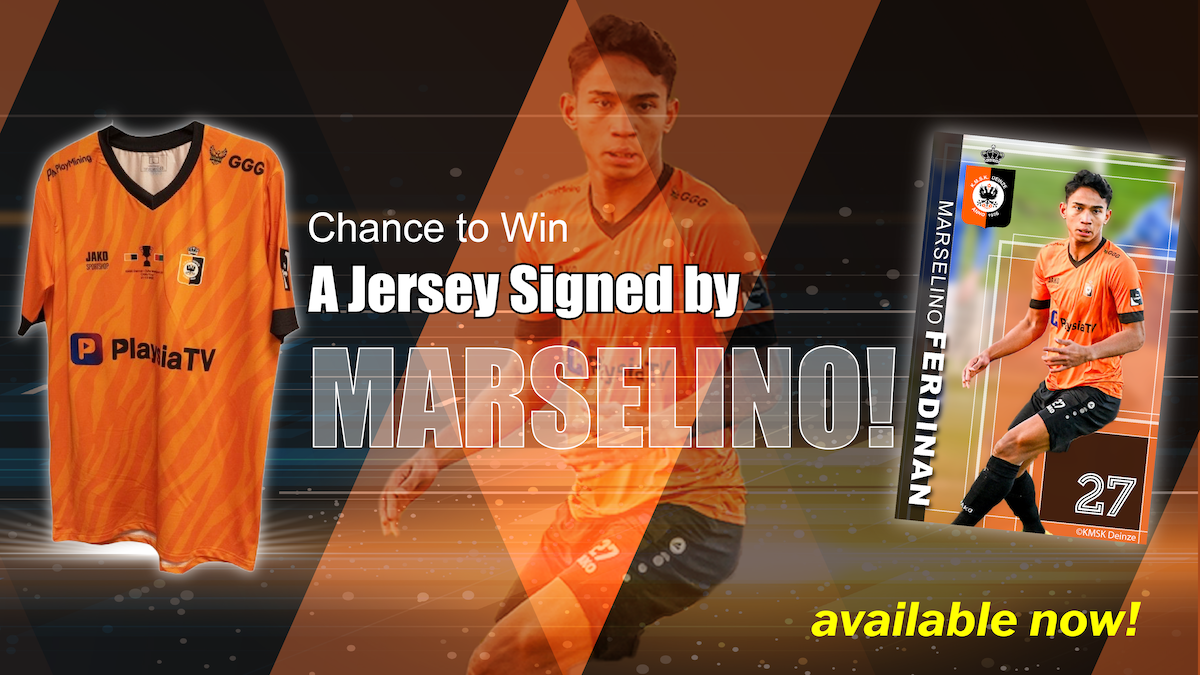 PlaysiaTV is pleased to announce the NFT of Marselino Ferdinan will be available for sale on PlayMining NFT.
Marselino is a rising star in Indonesian soccer and a recent addition to KMSK Deinze, a member of the second division of the Belgian professional league, and made his debut appearance in a game for KMSK Deinze on February 25, 2023.
This NFT will also be used as a priority access to participate in the Fan Token community.
▼PlayMining NFT : https://daa.playmining.com/
▼ [PlaysiaTV] Marselino Ferdinan / KMSK Deinze (March 2023) 
▼Date and time of release: Wednesday. March 22, 2023 14:00(UTC+8)
▼Price: 500 DEP
▼Number of NFTs to be issued: No upper limit
▼NFT Holders' Benefits
A) NFT will serve as a priority access to participate in the new Fan Token Community
-Fan Token Community will have rewards such as lottery rewards on PlaysiaTV, exclusive merchandise rewards, special video content of players, and the right to participate in TV program production, depending on the level of contribution to the community (to be implemented this summer).
B) Right to apply for a uniform signed by Marselino
-Ten winners will be selected by drawing from among those who fulfill the following conditions to receive a uniform signed by Marselino.
1) Have at least 3 copies of this NFT
2) Be a registered member of PlaysiaTV
3) Follow PlaysiaTV Twitter account + Retweet the tweet
For more information, please visit NEWS on PlaysiaTV.
https://playsiatv.com/news/marselino-ferdinan-special-nft-card-sales-launch
C) Can be used as a COMMON NFT in the game "JobTribes"
– Rarity: COMMON Attribute: Fire
-Cannot be used for NFT Quest
▼About PlaysiaTV
PlaysiaTV is a video streaming service that delivers football content from around the world, incorporating the Web3 'Watch & Earn' concept. It integrates a gaming element into the video viewing experience, with viewers being rewarded for watching the contents.
Playsia TV is currently streaming original contents globally, including contents from clubs such as KMSK Deinze (Belgian 2nd Division), as well as documentaries and interviews filmed in various countries around the world.
https://playsiatv.com 
▼About PlayMining
PlayMining is a GameFi and metaverse platform that empowers creators who would otherwise benefit very little in the traditional IP creation industry. The PlayMining platform is a new business model for content creation, featuring an NFT Marketplace powered by the PlayMining DEAPcoin ($DEP), paired with an NFT gaming and Metaverse platform. Featuring both in-house games as well as third-party projects with their own native tokens that allow creators to capture nearly all of the value they create, the PlayMining platform has 2.7 million users and a catalog of P&E game titles including Job Tribes, Cookin' Burger, Menya Dragon Ramen, Graffiti Racer and Lucky Farmer.