JobTribes_Select Pack on Sale
2023.01.01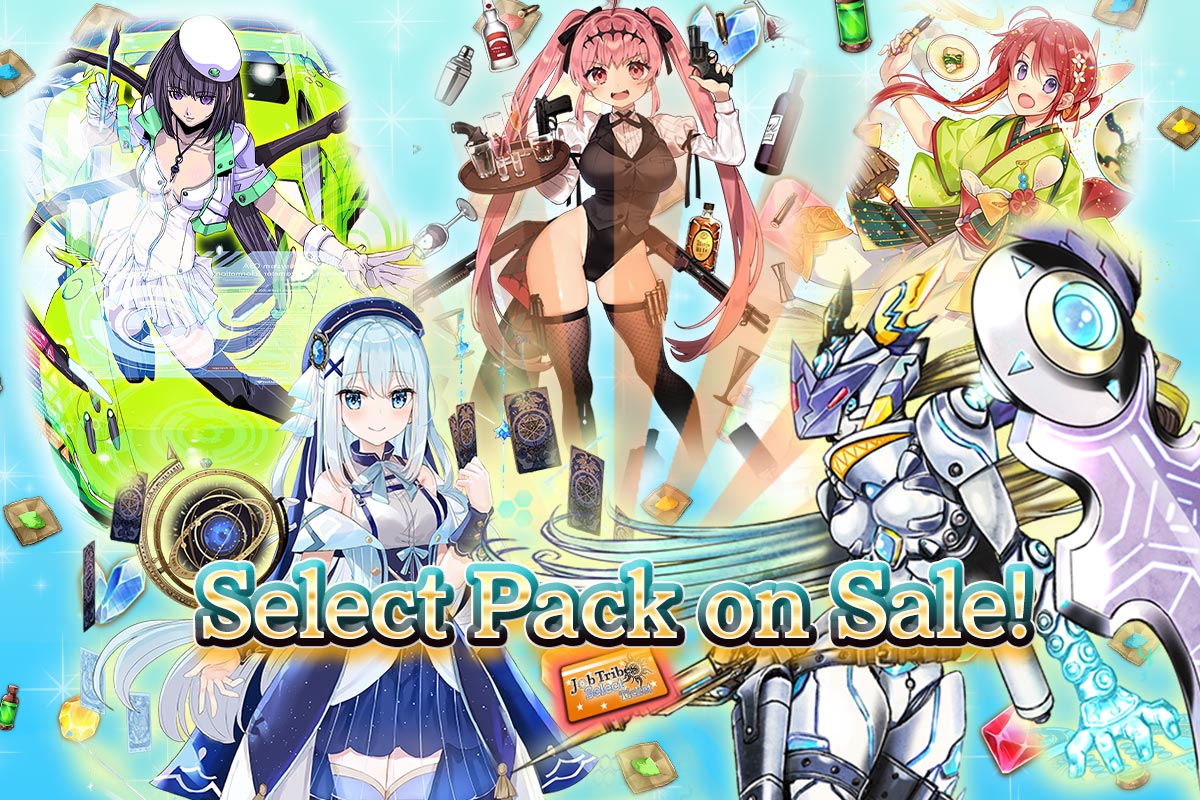 New items are added to the Item Shop lineup.
[List of Items]
・Select Pack・・・3,000DEP          ※Limited to one per person
Amulet Select Ticket that can be exchanged for popular amulets such as "White Hacker (Water)" and "Fortune Teller (Water)," as well as other items needed for recruiting and training are all included in this value pack.
[Sales Period]
Sun, January 1, 8:00 a.m. (UTC+8) – Tue, January 10, 10:59 a.m. (UTC+8)
[Product Details]
Select Pack
・Amelet Select Ticket×1
・Ruby of Passion×999
・Sapphire of Devotion×999
・Diamond of Innovation×999
・Crystal of Eminence ×999
・Sands of Vitality×200
・Sands of Conversation×200
・Sands of Technique×200
・Sands of Knowledge×200
・Sands of Aesthetics×200
・Sands of Creation×200
・Elixir×20
[Amelet Exchange]
The following amulet can be redeemed by using the Amulet Select Ticket in the shop.
Redeeming Period:Until February 1, 10:59 a.m. (UTC+8)
[Redeemable Amulet]
■Legendary
・Pro Bowler (Fire)
・Bodybuilder (Earth)
・Prime Minister (Poison)
・Car Designer (Thunder)
・Phantom Thief (Fire)
・Fortune Teller (Water)
・Bartender (Poison)
・Ryokan Waitress (Nature)
・Botanist (Nature)
・White Hacker (Water)
■Epic
・Food Coordinator (Nature)
・Real Estate Appraiser (Fire)
・Crab Fisherman (Water)
・Professional Shogi Player (Poison)
・Steel Woker (Earth)
・Industrial Designer (Thunder)
■Rare
・Cabaret Girl (Poison)
・Radio DJ (Water)
■Common
・Medical Office Worker (Earth)
・Screen Writer (Thunder)
[Notes]
・Amulets available in the Item Shop cannot be sold in the PlayMining NFT.
Sign up for PlayMining's Discord and let's have some fun interacting!
▼Click here to register for Discord.
https://discord.gg/UcEAuyZGCV