"JobTribes x WORLDFLAGS" Collaboration Decided!
Pemberitahuan
2020.10.26
Five samurai characters with national flags as motifs will appear in the game!
Digital Entertainment Asset Pte. Ltd. (DEA), a blockchain entertainment business based in Singapore, announced that the card battle game "JobTribes", operated by the company, and the national flag samurai project "WORLDFLAGS" will collaborate. The event is scheduled for November, and five samurai characters with the motifs of the flags of five countries, "USA," "Indonesia," "Chile," "Philippines," and "Malaysia," will appear in the game. Details will be announced at a later date, so please wait for the follow-up report.
■ Looking for character special moves!
We are looking for "special moves"that these 5 characters will use in the game.
This is your chance to see your special move ideas in the game.
Please use the application form below to apply.
※ Deadline: October 9th (Fri) 22:59 (SGT)
https://forms.gle/KT984tWC9LZv3AFB8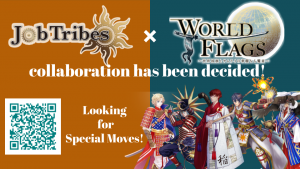 Card battle game「JobTribes」| https://jobtribes.playmining.com/en/
JobTribes is an occupation-themed trading card battle game in which characters who personify various occupations are given special powers to fight each other. Users are able to convert the in-game coins(PALEcoin) to the DEA issued cryptocurrency, DEAPcoin, through an appropriate process on DEA's platform.
Digital Art, which can be purchased at the "Digital Art Auction" using DEAPcoin, can be used as a powerful battle card in  JobTribes, which may greatly influence the outcome of battles.
Shin Kibayashi, one of the six top Japanese creators selected by Netflix in 2019, is in charge of the game's story.
「JobTribes」 | https://game-jtcb.playmining.com/
「WORLDFLAGS」 |  https://world-flags.org/ 
WORLDFLAGS is a mixed media project that introduces the history and culture of the world by personifying each country's flag as a handsome samurai warrior.
WAMICO Inc. owns the original intellectual rights, and DEA has the exclusive worldwide rights to distribute it.
The message of the work is to promote an understanding of diversity and multiculturalism through personifying national flags and to encourage people to learn about various countries.
With the concept of "Education x Entertainment" in mind, the project started as a flag illustration book to introduce the meaning, origin, design and trivia of national flags in an easy-to-understand manner. In the future, DEA plans to make games, cartoons, and other media as a "world peace project" and move beyond the realm of education.
The release of WORLDFLAGS on the PlayMining platform is a hot topic that has been picked up by influencers around the world on social media and IT news sites.
Signed a partnership agreement with China's Alibaba Group.