9/15-18 A special Digital Art sale of beneficial Job Lords for the ranking battle will be held!
Pemberitahuan
2020.10.26
This special sale is different from before! Here are the 2 different points!
① It's very beneficial!
n this ranking battle, enemies with tree attributes (green) and lightning attributes (yellow) will not appear. In other words, water (blue) and poison (purple) amulets will not be disadvantaged in battle.
Moreover, for this special sale, we have Job Lords with specialized attacks of water and poison attributes. The Job Lord special sale is "very beneficial" for ranking battles!
② Receive elixir with your purchase!
"Elixir" has a big effect in the ranking results.
This time, we have set "Elixir" as a Digital Art purchase benefit for Legendary and Epic, something we haven't done since the game started!
■ 50 Elixir presents
Legendary "Assassin"
Legendary "Swimming Instructor"
■ 7 Elixir presents
Epic "Professional Shogi Player
Epic "Crab Fisherman"
※ "Elixir" will be distributed in the game within 24 hours of purchasing Digital Art.
Please be well prepared before the ranking battle begins.
The special sale will start on Wednesday, September 9th at SGT 12:00!
Hurry to the Digital Art Auction!
■Sale period:Sep 9th(Wed) 12:00(SGT)-Sep 23th (Wed)11:59(SGT)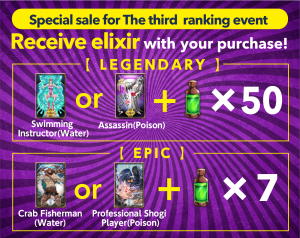 *DEAPcoin is not available for sale to residents of Japan.