JobTribes【Payday #06 (closing date) 】
Pemberitahuan
2020.10.26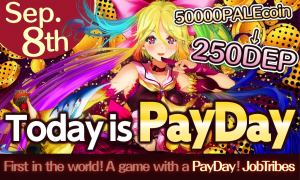 Payday: Anyone can earn DEP just by playing the game!
Buy DEAPcheck with the PALEcoin you've earned! Almost everyone
who plays the game can get DEAPcoin!
■PayDay Event Occurrence Period:
Sep 8th (Tues)12:00 – Sep 10th (Thurs), 11:59 (SGT)
Date of payment:Sep 15th (Tues) -Sep 17th (Thurs)
50,000PALEcoin→250DEP
*DEAPcoin is not available for sale to residents of Japan.