Digital Art Auction【Limited】Mr Etsushi Ogawa Special Gift Project
Pemberitahuan
2020.10.26
Special gift plan from Mr Etsushi Ogawa execution
A special event where you can get a signed lithograph from Mr Etsushi Ogawa, who has gained worldwide popularity with his cooking manga "Chuka Ichiban!" series!
■Period: Aug 21th (Fri) 03:00PM (SGT)〜Aug 26th(Wed) 08:30PM (SGT)
At the Digital Art Auction, we will offer a bid at a special price for the "Chinese Master Chef (Nature)" Digital Art designed by Mr Ogawa.
We will present a lithograph signed by Mr Ogawa on PlayMining TV to the three people who make a successful bid from 8/21 (Fri) 03:00 PM (SGT) to 8/26 (Wed) 08:30PM (SGT).
Check out the limited autographed lithograph only available here!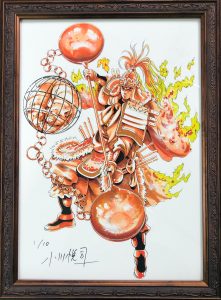 Digital Art Auction βver.| https://daa.playmining.com/