JobTribes "NFT Quest" Season 2: Duration and Rewards
2022.01.26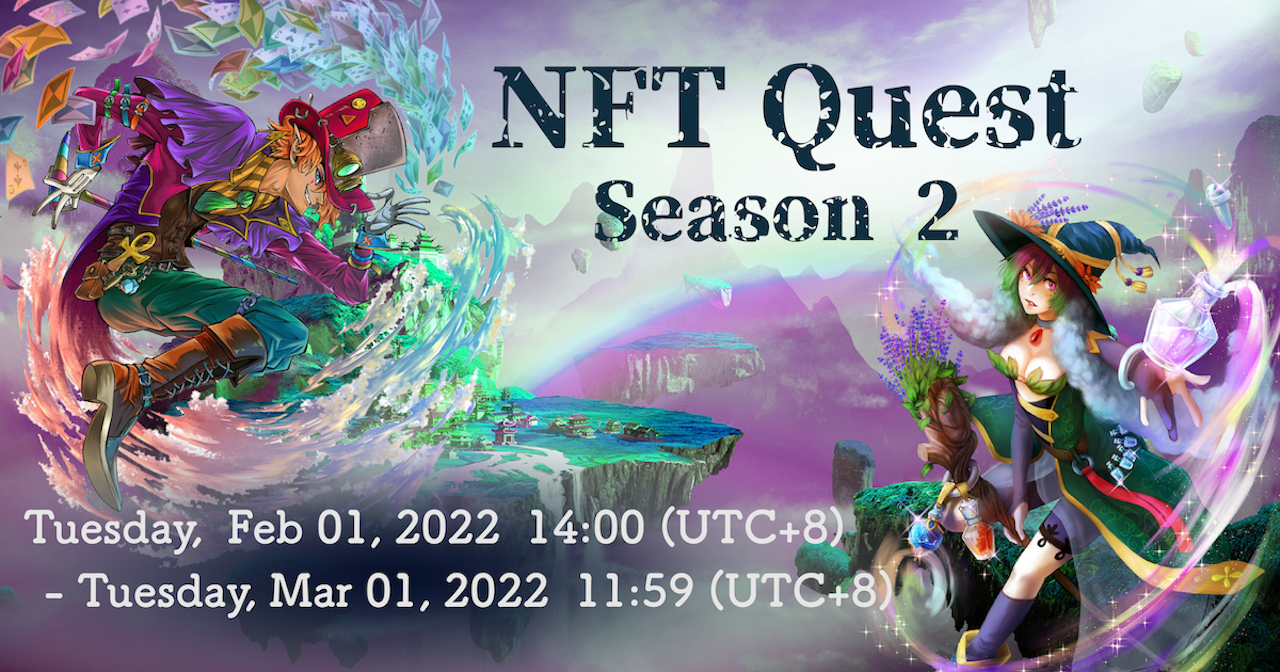 We are pleased to announce the duration and the reward settings for Season 2 of the JobTribes NFT quest, which will begin on February 1.
You also find the information on the revision of the PayDay compensation below.
1 Duration
NFT Quest Season 2:
February 1, 2022 (Tue) 14:00 (UTC+8) ~ March 1, 2022 (Tue) 11:59 (UTC+8)
After the end of Season 2, maintenance will be performed during the following times (JobTribes cannot be played during the maintenance).
March 1, 2022 (Tue) 12:00 ~ 14:00 (UTC+8)
PvP Week 2:
March 1, 2022 (Tue) 14:00 (UTC+8) ~ March 5, 2022 (Sat) 7:59 (UTC+8)
2 Rewards
Each quest consists of 15 stages and each stage can be completed once a day.
If you were to participate in the Legendary quest and complete all 15 stages in one day, the total reward would be 3,350 DEP.
【Amount of reward that can be earned per day(Total of 15 stages per quest))
Legendary Quest:3,350 DEP
Epic Quest:500 DEP
Rare Quest:148 DEP
*The reward will be distributed as DEAPchecks and must be redeemed for DEAPcoin (DEP).
▶︎Please see the medium for details.
3. About PayDay reward revision
Please note that the PayDay rewards for February 2022 will be revised as follows;
PayDay 1
DEAPcheck Reservation Period: February 1 (Tue) 14:00 ~ February 3 (Thu) 13:59 (UTC+8)
DEAPcheck Payment Date: February 10 (Thu)
DEP Exchange Rate: 50,000 PALEcoin→20 DEAPcoin
Maximum number of DEAPcheck reservation: 5
PayDay 2
DEAPcheck Reservation Period: February 15 (Tue) 14:00 ~ February 17 (Thu) 13:59 (UTC+8)
DEAPcheck Payment Date: February 24 (Thu)
DEP Exchange Rate: 50,000 PALEcoin→20 DEAPcoin
Maximum number of DEAPcheck reservation: 5
4. Change in the timing of Amulet collection and cancellation
In Season 1, "collecting the Amulets lent to Scholars" and "canceling the Scholarship contracts from owners" were done "after 00:00(UTC) of the next day",
but in Season 2 onward, both of them will be done "after 00:00(UTC) of 3 days later".
In addition, there is no change in the timing for "Cancellation of the Scholarship contract from the Scholar", which is "after 7 days have passed since the application."